AGI's Electrical Solutions Light the Way for Walmart's Holiday Success
The holiday season brings with it a surge in demand for seasonal items, and as the largest retailer in the US, Walmart faced the daunting challenge of ensuring a steady supply of refrigerated goods, particularly turkeys and hams. Recognizing the urgency, Walmart devised an ingenious plan to expand their inventory capacity: positioning their fleet of refrigerated trucks adjacent to their stores for swift replenishment. However, this plan necessitated the installation of new electrical infrastructure capable of maintaining connections with the Shore Power idle reductions switch system.
With only six months remaining until the holiday rush, and numerous locations eager to participate, Walmart sought the expertise of a proficient electrical group that could guarantee their ability to meet the impending demand. Step in AGI's electrical lighting and maintenance team, whose unwavering commitment to excellence was about to set the stage for a successful collaboration.
AGI, renowned for its industry-leading capabilities in surveying, engineering, and implementation, swiftly sprang into action. In a remarkable feat, they provided new galvanized wall mount enclosures, two-gang wall mount assemblies, and watertight plugs to a hundred percent of the awarded locations within a mere four months. AGI's efficient and skilled team ensured that Walmart had ample time to prepare, stock, and offer thousands of additional holiday meal staples, including the highly anticipated price promotions from the previous year.
AGI's track record of delivering quick, reliable turnkey solutions to nearly one hundred locations exemplified their commitment to exceeding expectations. With their support, Walmart overcame the challenges posed by the holiday rush, securing the success of their seasonal operations. AGI's expertise went beyond what was expected, illuminating the path to a fruitful partnership and demonstrating their dedication to helping clients achieve their goals.
In the realm of electrical solutions, AGI proved to be a beacon of reliability and innovation, showcasing their capabilities as they enabled Walmart to navigate the complexities of the holiday season. Their experience and proficiency in handling complex projects ensured that Walmart could focus on providing customers with an abundant selection of holiday essentials. AGI's contribution to Walmart's preparedness and success reaffirms their position as a trusted partner and sets a high standard for excellence in the industry.
AGI's electrical lighting and maintenance team truly lived up to their motto: "Experience beyond expected." Their swift action, unparalleled expertise, and commitment to customer satisfaction played a vital role in ensuring Walmart's ability to deliver on their promises during the holiday season, bringing joy and celebration to countless homes across the nation.
Latest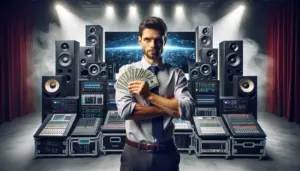 December 8, 2023
Mastering AV sales strategies in a global professional audio-visual (Pro AV) market, poised to reach $79.2 billion by 2028, requires much attention to detail. The surge in demand from corporate, government, and institutional sectors, driven by the need for enhanced productivity and efficient working environments, gives AV sales pros a lot of opportunity. In […]
Read More