Drivers Rejoice! New Roadway Construction Research Could Help Crews Keep Road Downtime to a Minimum
We all look forward to the end of winter. But warmer temperatures, blooming flowers and the opening of pools is not the only thing that comes with the melting snow. Spring means construction season, and construction season means crews are preparing for massive roadway construction projects to improve, expand and maintain the U.S.' roadways.
Improved roads are clearly good for drivers in the long term. In the short term, though, it's usually a headache. The average American spends almost 300 hours behind the wheel each year. Closed lanes and detours undoubtedly contribute to that monumental amount of time. So what if we could keep streets open longer and reduce the amount of time they're closed for construction? That is the very question posed by Dr. Upul Attanayake, professor of civil and construction engineering at Western Michigan University (WMU). Dr. Attanayake and his team worked with the Michigan Department of Transportation on the application of epoxy overlays to new concrete in order to reduce the time concrete takes to cure. Dr. Attanayake's team found that this epoxy treatment requires a week less curing time than traditional policies.
Could this research help reduce downtime for roadway construction during construction season? And should more states be encouraging research-based solutions to their construction challenges? As the CEO of Pavement Management Group, it is construction industry pro James Golden's job to pay attention to new and exciting possibilities for reducing construction times. Here are his thoughts on WMU's study and its impacts.
James' Thoughts:
"If you're anything like me here in the construction industry, the roadway transportation industry, you're always looking for those innovative ways to speed up the construction timelines without sacrificing all the importance of the strength, durability and longevity of the roadway surface or bridge deck itself.
I wanna give a quick shout out to the Michigan Department of Transportation who did a pilot project with some great engineering research associates regarding the application of epoxy sealers to concrete surfaces, specifically in this case, bridge decks. And here's what we know: part of the process for preventive maintenance activities and preservation activities to concrete roadways and bridge decks is applying this epoxy overlay around day 28.
At day 28, the concrete has cured, the structure is sound to support the epoxy overlay, to set it up for success. The challenge with that is that now, seven additional days based on this study, that we are waiting to open up to the public to get them on their way to get that highway or that bridge back open to the public.
So, by reducing the timeline by 25%, I'd say that's pretty massive. We're gonna be cutting construction costs, closing construction projects a lot quicker, and again, alleviating those traffic congestions that all of our neighbors, our friends, our families, are complaining about. It's the time of spring, which is construction season, orange barrel season.
So kudos to Michigan Department of Transportation. This is definitely a study that all of the DOTs and municipalities throughout the country are gonna want to take a look at and study. That's my take until the next one."
Latest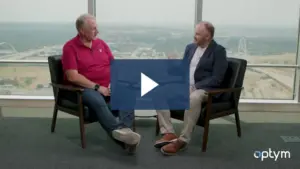 September 26, 2023
Making LTL shipping frictionless is more than possible; it's happening today. How can one challenge the status quo and embrace technological transformation in an industry that has historically resisted change? In this captivating episode of Semi-Related, Chris Torrence sets the stage for a riveting conversation with Todd Florence, the Chief Information Officer of Estes […]
Read More