Equitable Cities: The Impact of Policy
Texas Rep. Carl Sherman joined Dirt Work for a courageous conversation on the impact of policy on urban planning and the equitability of cities.
Sherman has been identified as a transformational leader in faith, government and business. As a member of the Texas House of Representatives, he proudly represents District 109, which includes many areas in southern Dallas County. Prior to his role in the Texas House, he served as the Mayor of Desoto, Texas as well as the City Manager in the cities of Ferris and Hutchins, Texas.
Independent of his public service, Sherman is currently a senior pastor at a local faith institution, as well as a former tech entrepreneur during a career that saw him take an electronic payment processing company public on both domestic and foreign stock exchanges.
An equitable city is defined as one is where all residents have equal opportunity to thrive and prosper, where health outcomes are consistent across all community, racial, and ethnic groups, and where environmental benefits are shared equally by everyone. Sherman asserts that the origin of many of the issues we face today are a byproduct of policies enacted by our forefathers during the Revolutionary War and the Civil War.
Lawmakers and citizens alike have an important role in promoting and creating equitable cities. To highlight that change will require both policy change and rather culture change, Sherman referenced Peter Drucker's quote, which says that "culture eats strategy for breakfast."
For listeners interested in learning more about the cross-section of policy and real estate, check out Richard Rothstein's The Color of Law and Jemar Tisby's The Color of Compromise.

Latest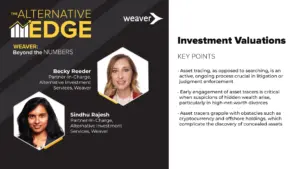 December 4, 2023
In this episode of The Alternative Edge, a Weaver: Beyond the Numbers Podcast, host Becky Reeder, an audit partner and co-leader of the alternative investments practice at Weaver, engages with Sindhu Rajesh, an Alternative Investment Services Partner with Weaver. They unpack the complexities of venture fund valuations, offering critical insights into industry dynamics and best […]
Read More