Front-End Loading Is Key to Planning Automation Projects

An automation project has plenty in common with a house. No matter how grand the idea starts, it's unlikely to be a successful project if the blueprints and foundation aren't right.
That's why Marques Harrer, Strategic Solutions Specialist for Concept Systems, said the company puts so much emphasis on front-end loading in automation projects. The better the plans, the more likely it is that a project can truly deliver the return on investment companies expect.
"The automation roadmap for Concept Systems really is an embodiment of that front-end loading project management philosophy," Harrer said. "It's an embodiment of the extra emphasis on making sure you plan correctly, making sure you can trust the return on investment calculations that you do as a business and the labor requirements, because you have an automation project where you say, 'OK, at the end of this, I'm not going to need two extra people to do this particular task, or I'm going to need two more mechanics."
Harrer said utilizing front-end loading can be critical to the success and ultimately make the process smoother for not only the Concept team putting the project in motion, but also the companies they are working with.
"I think Concept's life is made easier and I think the customers' life is made easier, because, when you have the proper planning and the proper process … you develop documentation that matches to what you executed to," he said.
All of it leads to a firm foundation and a project likely to produce the desired results.
Twitter – @MarketScale
Facebook – facebook.com/marketscale
LinkedIn – linkedin.com/company/marketscale
Latest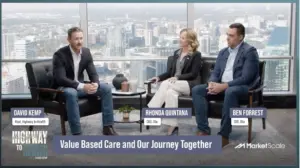 December 7, 2023
As of recent times, the healthcare industry has been progressively shifting towards value-based care, a model that emphasizes patient outcomes over the quantity of services delivered. This transition represents a significant shift that promises to enhance patient experiences and outcomes while controlling healthcare costs. With a growing emphasis on this approach, especially over the […]
Read More