How Servant Leadership Drives Manufacturing Success for Lance Thrailkill & All Metals Fabricating
Servant leadership isn't a new philosophy. It is, however, not the norm in business, especially in industries like manufacturing. Lance Thrailkill, CEO of All Metals Fabricating, has been using this leadership style for some time, seeing the benefits for the employees, himself, and the company.
"My job is to be a servant to everyone underneath me and position them to be successful at work, giving them the tools they need, and a comfortable environment to thrive," Thrailkill said.
He learned servant leadership from his father and grandfather, neither of whom were familiar with the term.
"It was just part of who they were. A great story about my grandfather is that when he took over the company, he worked another job at night to make payroll. An employee who worked here at the time said he knew by this that my grandfather would take care of him," he said.<
Servant leadership has its advantages and applies to even the manufacturing world.
"A lot of manufacturing is run with micromanaging. It's an old school way of leading. We like to think we're forward-thinking. People want to be trusted. When they are, they feel empowered," Thrailkill noted.
This commitment to employees really being the heart of the company is also good for business. IndustryWeek recently named All Metals Fabricating as a 2019 Best Plants winner. Thrailkill said the award and the praise from the publication were humbling.
Leadership is also critical in times of uncertainty. Thrailkill spoke about how servant leadership has been a guide during COVID-19.
"We are an essential business, so we remained open. We wanted our workers to feel safe about working. So, we bonused them every day and provided PPE, antibody testing, and lunch for about six weeks," he said.
The company's commitment to servant leadership has made a substantial impact on all parties, leading to amazing success for their operations and employees. Listen along as host Daniel Litwin gets into the details of Thrailkill's servant leadership in action.
Follow us on social media for the latest updates in B2B!
Twitter – @MarketScale
Facebook – facebook.com/marketscale
LinkedIn – linkedin.com/company/marketscale
Latest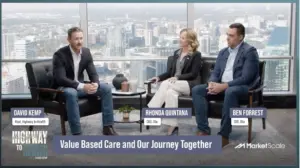 December 7, 2023
As of recent times, the healthcare industry has been progressively shifting towards value-based care, a model that emphasizes patient outcomes over the quantity of services delivered. This transition represents a significant shift that promises to enhance patient experiences and outcomes while controlling healthcare costs. With a growing emphasis on this approach, especially over the […]
Read More