Line it Up: How To Avoid the Costly Consequences of Bearing Failure
The cost of premature bearing failures can be far more than the price of the bearing. Delays in the manufacturing process due to a premature bearing failure could prove catastrophic to production timelines and wind up costing a manufacturer thousands even hundreds of thousands of dollars.
Rollon's Mark Cohn, Regional Manager, and Forrester Lowrie, Territory Manager, brought their combined 40-plus years of experience to Line it Up to discuss premature bearing failures and what companies can do to reduce such costly issues.
Lowrie's years of experience have left him seeing his fair share of bearing failures in machines across various industries. Some of these bearing failures were due to contamination, misalignment, corrosion or oxidation, heat, and paint overspray.
"Just about anything you can think of," Lowrie said. "I've seen bearing failures due to food spices causing bearings to fail prematurely."
"Some of the things I've seen are due to things people aren't may be familiar with," Cohn said. "Like misapplying the product right out of the gate is something. Unfortunately, I see a lot of where people didn't properly look into the details of an application, and not just the loads and such, but also things they might not even think about like estops, crashes and jams."
Each bearing has its theoretical productivity life, and extending that bearing's longevity is the key. Different machine applications may require different bearing types. Making the wrong bearing selection could prove a costly mistake.
Even with the correct bearing selection and installation, some required degree of maintenance will help maintain the machine's lifespan.
"The best thing to do is to have a proper maintenance schedule or program," Lowrie said. "Lubrication intervals need to be calculated." Lowrie also noted that, sometimes, people overlook the correct lubrication for a particular bearing. "For most linear type bearings, a lithium-based grease is usually used, whereas graphite or a moly-based grease could quickly destroy a bearing."
Follow us on social media for the latest updates in B2B!
Twitter – @MarketScale
Facebook – facebook.com/marketscale
LinkedIn – linkedin.com/company/marketscale
Latest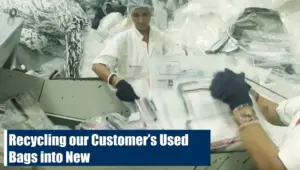 December 6, 2023
This video focuses on EcoLOK4, a groundbreaking product by CONTROLTEK that exemplifies innovation in sustainability. It highlights the process of transforming landfill waste into new deposit bags, with 90% of each bag's material being repurposed trash. This initiative not only reduces waste but also closes the sustainability loop, demonstrating CONTROLTEK's commitment to environmentally friendly […]
Read More