The Differences in Fueling Operations Between the US and Europe
Cla-Val's Tom Boriack, Global Market Manager for Fueling, and Richard Hooton, Market Manager of Aviation & Ground Fueling for EMEA with Cla-Val Europe, returned to the Valve Chronicles for this second installment on a series about the differences in aircraft fueling operations between the United States and Europe.
One key difference between the two nations is in safety regulations. Both the U.S. and Europe have safety governing bodies, but in Europe, they have some additional safety requirements, including weight-lifting limits.
"What those (safety) practices have led to are tools and components that actually take better care of the equipment," Boriack said. "Not only are the components – the wear and tear on them going down in Europe – we also see fewer workplace injuries over there."
Safety isn't the only difference between the two nations when it comes to aircraft fueling. Some other different rules and regulations separate them, too. Boriack jokingly said Europe wants to make parts lighter, but Hooton found a kernel of truth in that statement.
"In our part of the world, if a part is too heavy and an operator hurts himself, then the HSSE regulations means now, suddenly, the operator, the manager of the facility, has got a big problem on his hands," Hooton said. "And that's why so many of our products are so well thought out. We need it to be user-friendly, but we also need it to light and ergonomic and to make sure we don't cause these types of injuries in the field."
Latest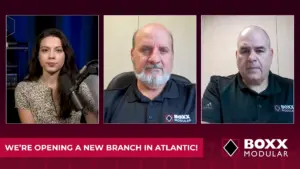 December 4, 2023
In an era where construction innovation is reshaping the industry, modular construction's growth continues to rise. In this episode of Built Modular, Boxx Modular's strategic expansion into Moncton, Atlantic Canada takes center stage. Host Gabrielle Bejarano welcomes Charles Landry and Ray Girouard to explore the implications of this venture. Bejarano, Landry, and Girouard discuss […]
Read More