Updating and Upgrading America's Aging Infrastructure
Infrastructure has been a major topic of conversation in 2022, due in large part to President Biden's $1 trillion bill that he signed into law in November of 2021.
What do experts believe is the most pressing need and how will improving our infrastructure benefit people and businesses? For answers, MarketScale turned to Bill McGowan, Project Executive at Granite Construction.
In general, what are your thoughts on America's aging roads and bridges?
You know, this is a rare opportunity to rehabilitate, to rebuild, to modernize our transportation system. The system in many respects is worn out, but it's also outmoded. So, we need to account for how we move goods and people around today and then how we will into the foreseeable future. Just as important, we also need to account for how we're going to move information around our country.
Where would you like to see the biggest investment and what are our biggest risks?
We should make investments in local and regional transportation networks first. That's where we can make the biggest improvement in the quality of life. In terms of risk, the project approval permitting process presents the biggest risk to rebuilding and shaping our transportation system for the future.
And that's not an easy problem to solve. You know, everybody has an opinion and our current system is shaped in a way that the opinion of the individual sometimes outweighs the opinions of the community and that's at local, state, and federal level. So, we need to find a way to streamline the approval, the permitting process, and, you know, rapidly get to approvals where we can, you know, make the changes, upgrades improvements to our information infrastructure network that we need to make. We need to find a more streamlined and balanced approach to rapidly getting to agreement and upgrading our transportation system.
What types of businesses and communities benefit first from infrastructure improvements?
You know, all communities and commerce in general will benefit from infrastructure, upgrades, the needs and benefits are different though, for every community.
That's why each community, given some broad-based guidelines around climate change, equity, access, but each community should be allowed to decide how they're going to upgrade, improve update their transportation networks.
How do you see new technologies, like drones, changing demands for infrastructure?
We've been moving from fossil fuels into sort of an electron-driven transportation network. I mean, everybody could see it coming. So not only for modes of transportation, but also how we move information. Around between communities. So the investments need to have innovative solutions around battery power, battery storage, autonomous vehicles, broadband infrastructure, all of those need to be considered when we're upgrading our transportation system, we need to elevate to a new level.
There's no question about that. We can't, you know, develop a system that was. State-of-the-art 70 years ago. Well, that state-of-the-art is not what we can't develop a system that was state-of-the-art 70 years ago. Again, today we need to develop today's state-of-the-art transportation network. We need a system that moves away from fossil fuels and into more sustainable modes of transportation.
Latest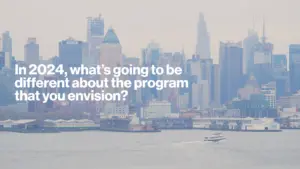 December 1, 2023
In the dynamic telecommunications landscape, Verizon's Partner Network continues to evolve, adapting to new trends and opportunities. For another segment featuring Mark Tina, VP of Indirect Channel Distribution and Channel Chief at Verizon Business Group, he explores exactly what types of significant changes and advancements the Verizon Partner Network will see in 2024. In this […]
Read More