What is Pushing Modular Buildings Practices Through the Roof?
Modular construction has grown tremendously in the past few years, leading many to believe it's a new innovation in the building industry. In reality, it has been around for quite awhile, but has only recently reached new heights as society re-evaluates our relationship with the environment.
The host of MarketScale's Cross Sections, Anthony Gude, sits down with the President of the Modular Building Institute, Tom Hardiman, to discuss the history of the nearly 40 year organization and why modular is resonating so much right now.
Latest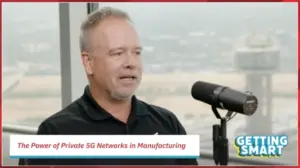 September 25, 2023
The Convergence of 5G and Automation in Manufacturing: A New Industrial Revolution The manufacturing industry stands at an inflection point. Advances in 5G technology and automation are coming together to transform the way products are made, and the role that humans and machines play in this process. Per Treven, Director of Business Development at Ericsson, […]
Read More