Why Smart Security Cameras Have Taken Over the Security Sector
Smart security cameras have become the most purchased product in the security sector, and Zach Supalla, Founder & CEO, of Particle, shares what this means for the security industry.
Zach's Thoughts:
There's clearly a technological advancement, which is one, just the fact that security cameras have gotten to be really cheap. And connected cameras in particular have just become very affordable. And alongside, the ability to do basic kind of computer vision, object recognition has been a huge asset to that space. It allows you to not just say, send somebody a video feed and say, "You gotta figure out what's going on here". But you can say, there's somebody at the door, I can see a person, there's a box here. Or in an industrial environment, like this machine is doing something weird, right? All these things you can do with computer vision. And the combination of sort of value going up and prices going down has been a big push to drive that.
Latest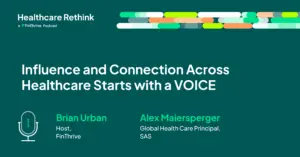 September 29, 2023
In the latest episode of the Healthcare Rethink podcast, presented by FinThrive, host Brian Urban sits down with Alex Maiersperger, the Global Principal Healthcare at SAS. Their conversation charts the role voice plays in influencing and connecting the healthcare industry. Maiersperger, who co-founded the Advancement League, shares his journey from being a healthcare optimist to […]
Read More