Zygo's Taiwanese Branch Champions Precision and Customer-Centric Innovations, Reinforcing its Status as a Global Leader in Metrology
Zygo's presence in Taiwan, established in 2000 and nestled in the Tainan Science Park since 2012, exemplifies the company's commitment to international excellence and local support. This branch not only services local customers but also assists American clients in designing and producing specialty items, including environmental isolation enclosures. One such product, the APM650, stands as a testament to the innovative designs and high-quality assembly that Zygo's Taiwanese branch offers.
Zygo's thought leadership in the field of non-contact measurement devices sets it apart in a crowded market. The key to this success lies in the remarkable stability and accuracy of its products. Zygo understands that greater precision begets superior products, a philosophy that has led them to become a market leader.
Zygo Taiwan provides a comprehensive suite of products that cater to entry, intermediate, and advanced levels. This breadth allows them to fully understand and meet the needs of their diverse customer base. The process often culminates in inviting customers to the Demo Center in Tainan, where they can test Zygo's products and gauge their suitability firsthand.
Perhaps one of the most significant strengths of the Taiwan Application Team lies in their customer engagement. They willingly engage in in-depth discussions with customers to understand their needs, developing applications based on existing technologies that meet these requirements. This proactive approach to customer service, coupled with their technical prowess, underscores Zygo's thought leadership in the realm of precision optics and metrology instrumentation.
Latest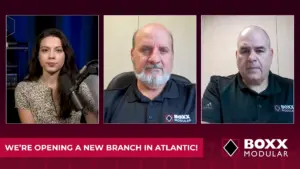 December 4, 2023
In an era where construction innovation is reshaping the industry, modular construction's growth continues to rise. In this episode of Built Modular, Boxx Modular's strategic expansion into Moncton, Atlantic Canada takes center stage. Host Gabrielle Bejarano welcomes Charles Landry and Ray Girouard to explore the implications of this venture. Bejarano, Landry, and Girouard discuss […]
Read More