IoT Wearables, the Future of Workplace Safety?
Improving safety in the workplace is becoming easier, thanks to technology. The Internet of Things is sparking innovation that can monitor safety risks and call them out before they become safety hazards that result in injury, hospitalization, or even death.
Safety hazards have claimed over 27 million workdays and 4,500 lives on the job, and companies have lost upwards of 250 billion dollars per year on safety related incidents. Paired with the statistic that only 6% of budget is spent on preventative equipment and systems, the need for advanced monitoring is on the rise. Wearable devices, however, are a solution and one that mining, manufacturing, and construction companies are starting to utilize for their workers.
How does it improve safety? The IoT is able to generate real time data that companies can use to shape their safety protocols and procedures, and tweak them in real time. It also encourages employees to adopt life-saving behaviors, and boosts awareness if conditions are subpar.
In the mining industry, IoT is the future.
 
Latest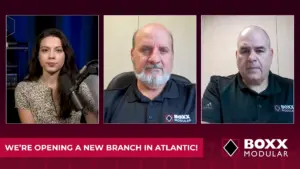 December 4, 2023
In an era where construction innovation is reshaping the industry, modular construction's growth continues to rise. In this episode of Built Modular, Boxx Modular's strategic expansion into Moncton, Atlantic Canada takes center stage. Host Gabrielle Bejarano welcomes Charles Landry and Ray Girouard to explore the implications of this venture. Bejarano, Landry, and Girouard discuss […]
Read More