Large Digital Stadium Displays Have Gone from Novelty to Necessary
For modern sports fans, the game isn't complete if the stadium doesn't boast a digital sign. Since their inception in the 1980's, "Jumbotron" screens have evolved from a novelty to par for the course for the fan experience. These displays were arguably the forefathers of digital signage content that we see everyday.[1] In the 21st century, LED is king of the stadium with screens as clear as they are large. Let's explore how these signs enhance the sports fan's time at the game while offering unique solutions to stadium owners.
While the Jumbotron gives detailed information on player stats, shows important replays, and fills downtime with gags like the classic "Kiss-Cam," digital signage is an integral part of nearly the entire stadium. At the concourse, ticket prices and directions to seating are displayed clearly on LED signs. Concession prices and discounts keep hungry fans on the lookout. The ubiquity of these screens keeps fans informed while providing an opportunity for a key, and easily forgotten, group: sponsors.
Digital signage is uniquely effective for sponsors, as the more advanced screens get, the higher the attendance.[2] That means more more screens bring in more fans, and together they create opportunities for branding, deals, and impressions with a positive team association. With a network of screens, brands can take over every major screen for a "moment of exclusivity," where their brand is at the center of the action. For sponsors, there's simply no comparison in media.
As stadiums continue to modernize, fan expectations will continue to evolve. If current trends hold even a little, the stadium signage revolution has only just begun.
[1] http://mvixdigitalsignage.com/blog/digital-signage-for-sports-venues/
[2] https://insights.samsung.com/2015/07/27/digital-signage-helps-live-sports-venues-elevate-the-fan-experience-video/
Latest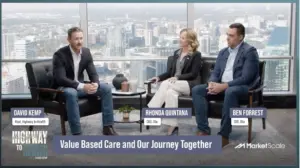 December 7, 2023
As of recent times, the healthcare industry has been progressively shifting towards value-based care, a model that emphasizes patient outcomes over the quantity of services delivered. This transition represents a significant shift that promises to enhance patient experiences and outcomes while controlling healthcare costs. With a growing emphasis on this approach, especially over the […]
Read More