Transportation Industry Leaping In To The Future
Fueled by big data, artificial intelligence, and the internet of things, the future of the transportation industry is here, poised and ready to take flight. With recent innovations in transportation paving the path for safer, more efficient, and smarter travel, sooner rather than later, flying cars may become more than just a concept animated in a Jetsons cartoon.
Powered by machine learning and a sophisticated assembly of sensors, cameras and software, many vehicles today already come equipped with self-driving features that enable the gathering of environmental data and the ability to react accordingly. But with more than 10 million self-driving cars and more than 250 million smart cars expected to share the road by 2020, travel via the highways and byways of America will be much safer and less stressful for all.
Set to revolutionize the highly inefficient trucking industry and predicted to reduce the number of truck-related accidents and fatalities, autonomous trucks that allow for real-time capacity planning are currently being primed to hit the mainstream. Last year, Uber's self-driving vehicle completed its first delivery, traveling 120 miles. And Daimler Trucks' recently launched an 18-wheel vehicle, that while not completely driverless, can appropriate control in specific conditions, keep a consistent speed and distance from other vehicles, and more, much like the autopilot function in a plane. And Sweden's Einride has even prototyped a cab-less remote-operated self-driving truck.
Still in the development, testing and planning phase are VTOL (vertical take-off and landing) vehicles and air taxis—in other words, the flying car! Over 15 startups, including Lilium and Volocopter, and several large corporations such as Airbus, Toyota, and Uber Elevate, are presently working on different flying car concepts. However, there are several challenges to solve, including airspace integration, human vs. autonomous operation, an infrastructure that will track and safeguard both drivers and assets, as well as controlled flightpath technology. But with both government agencies and big businesses working toward resolution, flying cars could be a reality in just 10 to 15 years.
And breaking waves at sea are cargo ships being developed by Rolls-Royce to transport goods without one sailor on board. Predicted to be in use by the end of the decade, these remote-controlled ships will not only be less expensive to operate, but able to carry more cargo as well.
While widescale implementation of these revolutionary technologies hasn't been completely achieved, many have been tested and prototyped, making large scale adoption imminent, and leaving shareholders and investors eager with anticipation. The future of the transportation industry is here…now.

Latest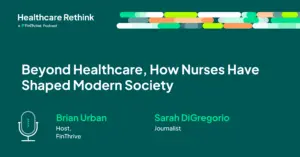 December 4, 2023
Nurses Have Shaped Modern Society beyond healthcare to stand as pivotal figures that transcend their traditional roles, influencing the broader spectrum of societal change. Healthcare Rethink, a FinThrive podcast hosted by Brian Urban, welcomes Sarah DiGregorio, Journalist, Author, and Speake,r to discuss her second book, "Taking Care: The Story of Nursing and Its Power […]
Read More