Using VIM to Cut Back Energy Usage
"Collaborating with one another through the VIM, we should be able to cut back energy usage by a third, the water usage by a third, and still cut costs."
Arol Wolford is a pioneer in the Architectural industry with 30+ years of experience. In this AEC Now podcast, he shares his deep insights about technological breakthroughs in the AEC world and the significance of VIM innovation.
"There are exciting things happening, and we believe VIM AEC is a real breakthrough in adds to this movement ahead," Arol says.
"We take the building information model and change it to a virtual information model," he continues. "We use the Unity gaming engine to put it on a VR setup. You just put the googles on and you're in a sense immersed in the building. You can go through the building on your computer."
Unity is the largest gaming engine in the world, with about a 70% market share. This same engine is so powerful and sophisticated that it is being used for surgery. These gaming engines are very, very powerful, and Unity is the leader in that area. The team at VIM AEC has been working with Unity for the last four years. Along the way, they sold the Unity software to Gensler, the largest architecture firms in the world. It is a victory to move larger companies into using the gaming within their construction activity because it allows designers and contractors to virtually fly through their creations because they are built, doing the "what if?" scenarios to balance function with aesthetics, costs, and environmental impact.
As a result of refinements done ahead of actual construction, says Arol, the industry could effectively cut energy usage, CO2 output, and even water—38% of the world's water is used in buildings.
"Working together with Revit, and collaborating with one another through the VIM," says Arol, "we should be able to cut back energy usage by a third, the water usage by a third, and still cut costs."
Arol acknowledges the AEC industry is taking a long time to implement the new technology because it's a complex process. Construction is like playing three-dimensional chess. To some extent, with aeronautics and automobiles, you still build the same model and build it 50,000 times. This isn't the case with construction; each building is unique.
"McKinsey came out with a report that said in the last 40 years, most industries have increased their productivity by at least 1500%. Construction? Less than 10%. So, we definitely have a problem," Arol concludes. "We definitely need to change systems. I think it's happening now. The tools I've mentioned are going to break through."
For more industry-leading insights, follow us on Twitter @AECNewsNOW and read our publication at marketscale.com!
Latest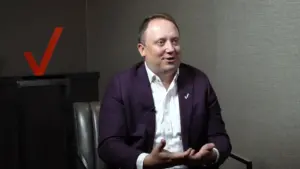 December 1, 2023
For a special episode of The Verizon Partner Network the focus was on the considerable role of partnerships in the Verizon Partner Program and the leaders shared their perspectives on the initiative. Their conversation brought about a lot of thought-providing context on the evolving telecommunications landscape. In today's era, collaboration and integration are key to […]
Read More