Catalyzing Climate Action in the Health and Nutrition Industry
The agriculture sector plays a critical role in fundamental human life. Some of its methods date back centuries, but its challenges today are as prescient as any industry. A growing global population will require more food than ever before, but unless more sustainable growing and farming practices are adopted, the food industry will continue to contribute to climate change as well.
"A study came out just last month that shows that the food sector is accountable for about 23% of global emissions when you look at land use change in agriculture. So, it's a really key sector when you look to both reverse the damage done by climate change and as a solution," Erin Callahan, Director of the Climate Collaborative said.
Callahan recently spoke at SupplySide West, an event in Las Vegas that brings health and nutrition professionals together.
The agriculture sector may be contributing significantly to a changing climate, but Callahan remains optimistic that it can also be a catalyst for reducing the United States' carbon footprint as well. One change she has noticed is a perception change among businesses that sustainable practices do not have to come at the expense of profits.
"I think it's been a barrier to action, because of the sense of that tradeoff for so many years, and I think what we're seeing now is companies realizing that that's a false trade off," Callahan said.
She also noted that 7 in 10 consumers are willing to pay more for products if they know they were sustainably and ethically sourced, so perhaps there is more incentive than previous years that sustainable offerings can be money makers.
Latest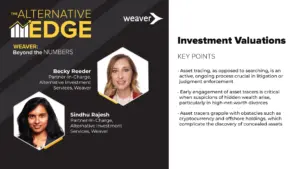 December 4, 2023
In this episode of The Alternative Edge, a Weaver: Beyond the Numbers Podcast, host Becky Reeder, an audit partner and co-leader of the alternative investments practice at Weaver, engages with Sindhu Rajesh, an Alternative Investment Services Partner with Weaver. They unpack the complexities of venture fund valuations, offering critical insights into industry dynamics and best […]
Read More