Chicken Wing Prices Soar Amongst Record Shortage
One of America's most beloved foods is at an all-time low. Chicken wings are facing a shortage across the U.S., as suppliers and restaurants scramble to fulfill orders and empty bellies. How are restaurants responding, and what strategies could prevent the supply chain from bearing the brunt of this sort of disruption in the future?
On this Marketscale TV interview, Voice of B2B Daniel Litwin talked with Jeff Feather, President of Duff's Franchise Group which oversees Duff's Famous Wings, an Amherst, NY-based restaurant with a legacy in buffalo chicken wings since 1969. The duo dug into the wing shortage, its longterm ramifications and what restaurants should or shouldn't be doing to adapt to price shifts.
Early reports from the Restaurant Business Online predicted a shortage as early as February, citing U.S. Dept of Agriculture research showing wing stocks were the lowest they've been since 2011. One of the only ways suppliers and restaurants are able to deal with the shortage is to raise prices. This isn't the first time this kind of disruption has happened.
"It is leaving us in a big state of uncertainty," Feather said. "I've been in this business for 40 years, and I've seen fluctuation in prices. They seem to go in a two to three-year cycle where all of a sudden they'd shoot up, but we've never seen a shortage like this. Prices would go up, but we could always get product. This is the first time it's even hard to get what we want."
Current reports show that wings priced at $1.50 per pound are now going for $3 to $4 per pound. Some restaurants, like national chains, can eat these costs, while others are left having to explain the cost increase to customers while shifting marketing, menu and supply plans to stay afloat.
"Our prices have doubled in the past few months, so we're forced to raise prices and pass it along," Feather said. "Hopefully, going forward, it will come back down to normalcy."
Follow us on social media for the latest updates in B2B!
Twitter – @MarketScale
Facebook – facebook.com/marketscale
LinkedIn – linkedin.com/company/marketscale
Latest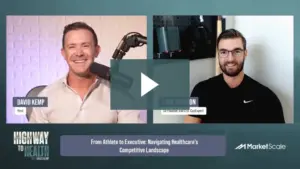 September 28, 2023
Navigating healthcare's competitive landscape requires innovative solutions addressing care quality and affordability. CapExpert is a game-changer in outpatient healthcare. It enhances asset management, ensuring the best care for patients. Luke Johnson, Co-Founder and CEO of CapExpert, spoke with Highway to Health's David Kemp on how CapExpert enhances asset management, bridging visibility gaps and streamlining […]
Read More