How AI and Robotics are Enhancing the Guest Experience
Key Insights:
Major US restaurant chains lead the charge in embracing technology.
By piloting different systems restaurants can streamline and automate dining.
As technology trickles down, Castiglia predicts industry-wide adoption in five years.
This week, robotics, artificial intelligence, and automation are gaining press and popularity in the restaurant industry. From robots flipping burgers and perfecting chips to vending machine-size bots cooking fresh burgers, this trend will gain momentum over the next five years.
According to a Nikkei Asia article, Japan embraced robotic help in restaurants decades ago. Conveyor belt sushi chains use robots to combat high fish prices. Robot use expanded into kitchens, self-seating kiosks, and pay stations in 2018.
"What's [really] cool about all this is that is not the scary thing we thought a few years ago, it's not going to take over the employees. It's supporting employees and [the] guests," said Barbara Castiglia from Modern Restaurant Management. It's not a race to replace employees. It's a support to employee work by handling monotonous, detailed tasks.
Major chains across the US embrace robotic help, from Chipotle to Panera. Flippy, the burger-flipping robot, has a new friend, Chippy. Chippy is working in Chipotle to create the perfect chip, ensuring the right amount of salt and lime. It will eventually advance to work in multiple chains.
Miso Robotics is harnessing artificial intelligence to make the perfect cup of coffee at Panera. It supports employees by taking care of overlooked tasks, like the right temperature for the coffee pot warmer. By releasing pressure on employee bandwidth, they can better care for customers, enhancing the overall experience.
Marco's Pizza currently runs a pilot test for voice ordering in 50 stores. So far, it has yielded 100% accuracy in orders. As a no-regret solution, the business can front order mishaps, decreasing food waste. Employees are supported by getting the orders right, and of course, the customer receives the correct food.
Jersey City, New Jersey, is the home to RoboBurger. It's a vending machine with robotic mechanics to perfectly cook a fresh burger in six minutes. What ATMs did for banking, robotics can now do for restaurants. A Fast Casual Dining article, explores the range of robotic solutions, from automated salad makers, AI bartenders, to fully automated micro cafes, there isn't a type of food that wouldn't benefit from these enhancements. "They can automate the food or beverage-making process, save money and human resources, enrich menus, make fewer mistakes, reduce food waste, and work 24/7 without a raise," writes Chen Feller.
Embracing robotics and integrating technology could be one solution to the labor shortage. Castiglia reminded us, "When you have people like Chipotle and Panera who are using these technologies it will trickle down to everyone. We'll see what technology can do in full force, you know, within five years at all restaurants, at all levels."
Latest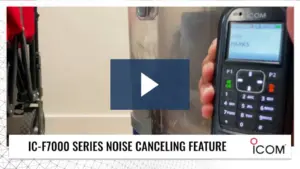 September 27, 2023
In this brief product demonstration video, ICom's IC-F7000 Series receives a mic test of its noise-canceling feature. Through the two demonstrations it is clear the IC-F7000 removes loud ambient noise for clear two-way communication.
Read More