How Food Dehydration is Becoming a Restaurateur's Solution for COVID-19
Ian Christopher, CEO of Galley, a food tech company working to improve restaurant operations via data insights, joined the host of The Voice of B2B, Daniel Litwin, to talk about the problem of food waste, technology of food preservation, and how the pandemic has brought to light the necessity of minimizing food waste.
In a 2017 NRDC report, it was found US restaurants waste about 22-33 billion pounds of food each year. 10% of restaurants' food supply is wasted before it even reaches a customer's dinner plate. "What we can do is help operators understand food waste even before it starts," said Christopher.  He explained that proper purchasing decisions can greatly reduce food waste and that there are many techniques to mitigate food waste when restaurants or food services have over ordered or over produced.
The COVID-19 pandemic has significantly changed the restaurant landscape and businesses are looking for ways to remain economically viable.  While restaurants were never trying to create food waste, the pandemic has made reducing waste a necessity to remain in business.  Menu changes to accommodate food stocks and dehydrating premium items and trimmings are ways to utilize food that would have otherwise been thrown away.
Christopher also talked about dehydration as a viable food preservation technique as it is more cost-effective than it used to be.  It is becoming more popular as a way to reduce food waste by preserving high value foods, adding value to certain foods items, or repurposing trimmings to be used in other menu offerings.
Follow us on social media for the latest updates in B2B!
Twitter – @MarketScale
Facebook – facebook.com/marketscale
LinkedIn – linkedin.com/company/marketscale
Latest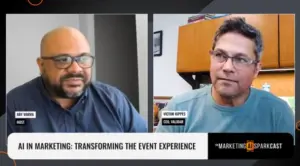 November 28, 2023
AI has been gradually changing the landscape of event technology at a very rapid pace. In an industry where staying ahead of technological trends is crucial, AI's impact on marketing and event management has become increasingly significant. As witnessed in the rise of account-based marketing and enhanced personalization, AI is effectively reshaping how events […]
Read More