How One Doctor Uses 3D Printing for Custom Surgical Guides
Custom surgical guides help improve placement and surgical success. Dr. Kristian Buedts, MD, a foot and ankle surgeon at ZNA Middleheim in Antwerp, Belgium recently shared how he uses weight bearing CT scans to create his own surgical guides, and then how he 3D prints those guides at his hospital.
Dr. Buedts highlighted the challenges associated with arthrosis in younger patients, noting that osteo-arthritis typically develops in younger patients as a post-traumatic symptom. More than half the time, the condition presents as asymmetrical wear of the tibio-talar joint (Witteveen 2013), and realignment surgery is often considered to avoid the implications of ankle replacement and joint fusion in younger patients (Krahenbauhl 2017).
These surgeries have been made easier by the accurate 3D representations made possible with weight bearing CT scans, providing professionals like Dr. Buedts with a more consistent pre-operative planning process that included the following steps:
Computer simulation software aids in generation of 3D models
Displacement is calculated by comparing the affected bone to the normal side through superimposition
Virtual osteotomies are conducted
Commercial software helps translate these simulations into custom-made guides
These guides are 3D printed to assist with the actual surgery
In one case, a patient with ankle instability in the ankle joint as a result of ligamentous laxity and a complex cavo-varus deformity with congruent varus deformity in the ankle joint, among other problems, underwent a corrective dome osteotomy.
While cases such as the patient's are often hard to reproduce and are difficult to operate on, Dr. Buedts and his team utilized weight bearing CT imaging and the 3D printing of pre-operative guides that were used during the procedure to achieve an extremely positive outcome.
To learn more about the possibilities of weight bearing CT imaging, visit curvebeam.com/contact/.
—
For the latest news, videos, and podcasts in the Healthcare Industry, be sure to subscribe to our industry publication.
Follow us on social media for the latest updates in B2B!
Twitter – @MarketScale
Facebook – facebook.com/marketscale
LinkedIn – linkedin.com/company/marketscale
Latest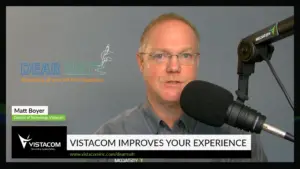 December 11, 2023
In a time when the AV industry supply chain faces unprecedented challenges, understanding its current status and future trajectory is crucial. In this week's segment of "Dear Matt," presented by Vistacom, host Matt Boyer, the Director of Technology at Vistacom, brings his over 30 years of experience in the audiovisual industry to the status […]
Read More