5 Ways Healthcare Organizations are Using SDOH to Make a Difference
So much of our overall health is impacted by various socioeconomic factors, which don't involve ever stepping foot into a doctor's office, clinic or hospital. Social determinants of health—commonly referred to as SDOH—and healthcare utilization have an evidenced correlation. It's estimated that as much as 80% of socioeconomic factors determine our health. That's significant. As healthcare organizations—hospitals, health systems and payers—look to curb costs and operate more efficiently, there's growing evidence pointing to the importance of understanding and addressing SDOH.
Healthcare organizations are using SDOH data in the following ways:
Risk stratification
Socioeconomic data can be used as one of a few sources to determine what level of risk a patient/member is for high utilization—low risk, moderate risk, rising risk, high risk, etc. In addition to using clinical and claims data, adding socioeconomic data provided by a third party can enhance risk scores built in-house. As a result, organizations can build comprehensive models to segment populations and better manage health outcomes.
Predictive analytics
By combining socioeconomic data with clinical and claims information, healthcare organizations have been able to identify potential high-risk groups/individuals and determine which socio-clinical interventions to deploy.
Social needs referrals
SDOH data has been a boon for social workers and care managers. Armed with the right information and tools, they're able to make accurate referrals to community-based organizations like food banks, transportation services, temporary housing assistance, job training programs and financial aid services. SDOH data helps knock down barriers to care that often lead to bigger, more costly healthcare issues down the line. SDOH data helps solve that. For example, a produce-prescription program in Ward 8 of Washington, DC brought a diversified team together to improve health for pre-diabetic, diabetic and hypertensive individuals who faced food insecurity. The program provides a $20 per week prescription for fruits and vegetables, as well as a nutritional consult. Improvements, such as a decrease in ED visits and hospitalizations and an increase in primary care, have already been seen.
Individual care interventions
Individual-level datasets inform care managers of specific socioeconomic needs the organization can directly address. For example, without reliable public or personal transportation, patients may skip annual checkups, follow-up visits and recommended screenings. Free rides can be offered to and from the physician's office to ensure they can make their appointment.
Aggregated data sets are being leveraged to identify which specific neighborhoods would benefit most from SDOH interventions. For example, hospitals in areas with high numbers of homelessness have provided patients facing housing instability with a safe and supportive place to heal after hospital discharge.
FinThrive Social Determinant Risk Attributes delivers individualized (evidence-based data from 90,000+ sources and matched at patient level) and aggregated (neighborhood data down to the ZIP + 4 level) socioeconomic datasets.
Learn more about how FinThrive is advancing health equity through data. See Our SDOH Story.
Latest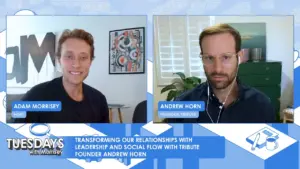 November 28, 2023
Can relationships be transformed through leadership and social flow? Navigating the intricate web of digital relationships can be a tricky proposition. Tuesdays with Morrisey's Adam Morrisey uncovers the transformative impact of emotional recognition in the workplace with Andrew Horn, the mastermind behind Tribute. This podcast edition unravels the story of a platform redefining how […]
Read More