A Digital Health Solution for Chronic Pain Sufferers
For chronic pain sufferers, an increase in pain levels is typically associated with higher stress and anxiety levels. But in a time when a terrible pandemic has wreaked havoc across the globe, everyone's anxiety levels are escalating, particularly for those with chronic pain, intensifying pain beyond usual levels. And because there is no acute illness, pain management in a primary care or outpatient setting may not be considered a priority for physicians during a global health crisis.
Thus, patient anxiety and pain levels rise further as they worry about not being able to see their doctor for medication refills, treatments, or basic follow-ups. Making matters worse, the closing of businesses providing massage, acupuncture, exercise and counseling services that aid in pain relief has essentially demolished the alternate pathways these sufferers can traverse to control their pain. Further, depression and anxiety are the top symptoms of chronic pain, and social distancing measures have undoubtedly resulted in an overwhelming sense of social isolation, deepening feelings of unhappiness and hopelessness for these patients.
Sadly, one in three Americans suffers from chronic pain—that's 100 million people in this country alone. Because pain measurement is subjective, often taking three to six months to diagnose, the condition is often overlooked by the healthcare community; and even when diagnosed, the treatment most strongly encouraged over the past 25 years has been opioids. But as the opioid crisis swept the U.S., a search for alternatives to pain management became a national crusade.
On this MarketScale videostream, Celine Tien, the Founder of Flowly, joins MarketScale's Daniel Litwin, the Voice of B2B, to discuss the launch of Flowly and the role of telehealth and telemedicine during the COVID-19 crisis and beyond. Flowly is a data-focused bio-feedback mobile app for chronic pain and anxiety sufferers, enabling users to explore interactive VR- and phone-enabled experiences in order to teach them how to regulate their nervous systems through relaxation training. Flowly also keeps track of a user's progress while allowing them to share it all with a supportive community.
"We saw a survey with the U.S. Pain Foundation where people with chronic pain and chronic illnesses who are also immunosuppressed are particularly vulnerable to viruses like COVID-19. They're getting even less access to health care than they did before." Tien explained. "Initially we had wanted to launch Flowly later this year, but when COVID hit—I would say at the peak in March—we had such an inundation of messages and people reaching out to us asking if they could access our data immediately because people were so in need of something that they could remotely access at home to help them manage their pain."
Bringing thought leadership to your day, MarketScale hosts industry experts so that you stay informed of the newest trends, events and beyond in B2B. And for the latest thought leadership, news and event coverage across Healthcare and other industry sectors, be sure to check out our Industry pages.
Latest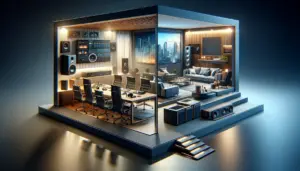 November 27, 2023
In this episode of "Pro AV Today," host Ben Thomas sits down with Audra Kinsley of Sonos Professional to unpack a topic that's causing (sound) waves in the audio industry: the fusion of commercial and residential audio systems. As we navigate through a landscape where consumer and professional audio worlds are increasingly intersecting, Sonos steps […]
Read More