A Roadmap for the Healthcare Digital Transformation
The challenges healthcare executives and administrators face are constantly changing. Host Kevin Stevenson talks with the heroes behind the heroes that are enabling hospitals, urgent care centers and telemedicine operators to spend their time tending to patients, while they handle the logistics.

Over the past decade or so, the use of digital tools in the healthcare landscape has steadily increased. However, the velocity at which telemedicine and virtual care models were adopted during the coronavirus crisis is an escalation that no one could have foreseen. However, this technological metamorphosis in healthcare dynamics was one that was waiting to happen, a digital transformation that has been looming just over the horizon. However, with this shift, there is also an urgent need for healthcare to delve into new ways of meeting evolving patient preferences, working with different providers, and make progressive improvements in expanding technology integration, access, information exchange, and data security, particularly as we move into the post-pandemic era.
A best-selling author, a by-lined CIO Magazine columnist, and host of the highly-subscribed The Big Unlock podcast featuring healthcare and technology C-level executives, Paddy Padmanabhan is the CEO and Founder of Damo Consulting—a growth strategy and digital transformation advisory firm that works with healthcare enterprises and global technology companies. In response to the pandemic and changing consumer preferences, Padmanabhan, along with co-author Ed Marx, recently released his second book Healthcare Digital Transformation: How Consumerism, Technology, and Pandemic are Accelerating the Future, an essential handbook and guide for digital health and digital transformation leaders in healthcare.
And on this episode of MarketScale's I Don't Care podcast, host Kevin Stevenson sits down with Padmanabhan to discuss the sudden upscaling of virtual care capacity, the mainstreaming of telehealth, the mounting momentum of healthcare digital transformation, and the cybersecurity risks that are sure to accelerate concurrently.
"There was a pre-pandemic era when most health systems were coming along in their digital transformation journeys—specifically the telehealth and the virtual care aspects of digital transformation. And then the pandemic hit. In March, everything changed. What used to be maybe 20 visits a week suddenly became a couple of thousand visits a week through telehealth. And what that meant was a complete paradigm shift in the way health systems had to look at how they would deliver their care to patients." Padmanabhan continued, "First and foremost, you had to have the telehealth capability; but the tool itself wasn't enough. So, you had to have the playbook for conducting your telehealth visits. You had to train your caregivers. You had to train your patients."

Latest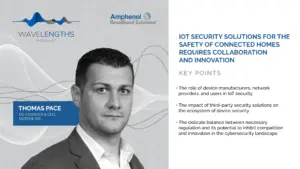 November 28, 2023
Since the introduction of smart devices, the world has increasingly become dominated by interconnected devices but IoT securitydemands are also growing. The "connected home" has shifted from what was once a futuristic concept to reality. With the global smart home market projected to reach $135.3 billion by 2025, the conversation around the security of these […]
Read More