AI and Cell Therapy Intersect to Revolutionize the Biopharma Industry
Artificial intelligence (AI) is often associated with consumer-facing and mainstream industries such as gaming, securities and retail, but it plays just as crucial of a role in the biopharma industry. Sandi Colner, head of lab and life sciences vertical for Intel, and Stephanie Davies, head of science for cell therapy at ValitaCell, joined Host Tyler Kern to discuss this.
"The reason these therapies are important is that they really are a potential solution for a lot of diseases that don't have alternative treatments like certain types of cancer, or OA and Crohn's disease," Davies explained.
Currently, the manufacturing process is still crude. This is partly because tools to monitor cell health and function can take half the time the entire process takes. Embedding a new breed of simple, automatable analytics in these processes — such as image and AI based assessment of cell quality — can help produce a high yield of quality cells to treat patients. This can help decrease the strenuous manufacturing processes that limit the industry.
Sandi Colner, head of Lab and Life Sciences at Intel says that the biopharmaceutical industry is undergoing an immense digital transformation driven by AI. "Although the application of AI in manufacturing is still in its nascent stage," Colner says, "it's already created an extensive ecosystem of different AI solution providers."
Davies believes the key to accelerating this lies in industry collaboration. "I think these amazing collaborations that we are having across various parts of the industry are going to help connect different siloed data sets. It's going to enable us to have access to sufficiently large data sets that are diverse and that are really going to be needed to train these AI models," she said.
Looking to the future both Davies and Colner see many ways AI can help solve problems in the emerging cell and gene therapy industry. "This is difficult science, and we need to acknowledge that," says Colner. She continues to explain that the next collaborations happening across various parts of the AI industry will enable new cell therapies to be delivered.
If you are interested in learning more or collaborating in the transformation of the biopharma industry, please connect with Stephanie Davies or Sandi Colner on LinkedIn.
Subscribe to the "Health and Life Sciences at the Edge" channel on Apple Podcasts, Spotify, Google Podcasts, or Simplecast to hear more from the Intel Internet of Things Group.
Latest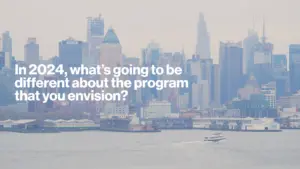 December 1, 2023
In the dynamic telecommunications landscape, Verizon's Partner Network continues to evolve, adapting to new trends and opportunities. For another segment featuring Mark Tina, VP of Indirect Channel Distribution and Channel Chief at Verizon Business Group, he explores exactly what types of significant changes and advancements the Verizon Partner Network will see in 2024. In this […]
Read More