Answering Challenges in the Use of Immediate Use Steam Sterilization
Healthcare has plenty of potential pain points to go around, but one of the industry's longest lasting is the proper use of immediate use steam sterilization, or IUSS.
The procedure, traditionally known as "flash sterilization," offers the quickest possible time between an instrument's use and its ability to be used again. However, that benefit is countered by several key challenges.
Notably, a lack of documentation and proper recordkeeping, specifically around the use of trays, and general concern about the efficacy of IUSS have led the AAMI to support minimal use of the practice, if it's used at all.
However, IUSS does present some benefits. Medical professionals still like it in specific scenarios for its ability to keep tools available, offset supply drops or late arrival, and avoid contamination in the middle of a procedure.
So, if it's to be used at all, how can the industry ensure it's being done in as safe a way as possible? Enter Censis Technologies.
On this Censis Technologies podcast, Kelly Swails (MAOL, CRCST, CHL, CIS, CER, ST), Senior Clinical Educator for Censis, joined host Daniel Litwin to break down how the company's CensiTrac solution can give medical professionals holistic insight into their processes and help them make the right decisions for each unique scenario.
Interested in learning more about Censis Technologies' surgical asset management platform? Visit Censis.com.

Follow us on social media for the latest updates in B2B!
Twitter – @MarketScale
Facebook – facebook.com/marketscale
LinkedIn – linkedin.com/company/marketscale
Latest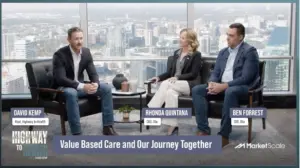 December 7, 2023
As of recent times, the healthcare industry has been progressively shifting towards value-based care, a model that emphasizes patient outcomes over the quantity of services delivered. This transition represents a significant shift that promises to enhance patient experiences and outcomes while controlling healthcare costs. With a growing emphasis on this approach, especially over the […]
Read More