Artificial Intelligence Is Having A Real Impact on Healthcare Technology
Healthcare is constantly improving and the medical industry throughout the globe is benefiting from new technologies like artificial intelligence. Where professionals are finding this method of machine learning is also expanding.
AI's introduction in the medical field began in streamlining fashions—speeding up clerical work and communication for doctors and patients. Now, AI has begun to impact not only the quality of care for many patients but has also opened the door for those in underdeveloped and underserved countries to get access to the same medical technology available to the rest of the developed world.
AI in Neurology
One of the most promising applications for artificial intelligence in the medical field is aimed towards the neurological field. People suffering from degenerative neurological diseases like Parkinsons may over time lose the ability to preform basic tasks like speaking or moving. With the help of Brain-Computer Interfaces (BCI) powered by artificial intelligence, doctors are now able to decode the neural networks that allow these connections to take place and restore, albeit temporarily, a patient's ability to communicate meaningfully.
AI in Developing Countries
Healthcare and medicine in third-world countries are often in short-supply and antiquated compared to their industrially developed counterparts. Whole continents like Africa are plagued by diseases like Malaria that kill upwards of 500,000 children every year.
Now, global aid organizations are helping fund medical devices like TermoTell, a sensor powered bracelet that uses AI and other technology that measures temperature and sweat patterns in real time. If the device recognizes a possible malaria threat, a notification is sent to a caregiver's smartphone to diagnose and treat the disease before it turns lethal.
AI in Preventative Care
One of the biggest hurdles for healthcare professionals to climb is accurately analyzing the troves of data being collected from a patient. Algorithms and genetic coding have already proven to be effective tools for predicting things like heart disease and cancer risk, but machine learning is significantly improving the science. When AI is employed, researchers can use techniques to help identify anomalies in a dataset and make connections between seemingly unrelated statistics that could provide a template for the future of a patient's health and well-being.
Artificial intelligence, virtual reality, and deep learning are all going to make an impact on healthcare worldwide. As the years progress, the medical industry will continue to see breakthroughs in fighting diseases like cancer and Alzheimer's as a direct result from these technologies. The United States alone has a global medical device market worth $156 billion. So, from the emergency room to the pharmacy, healthcare is becoming more accurate, more accessible, and more affordable.
Latest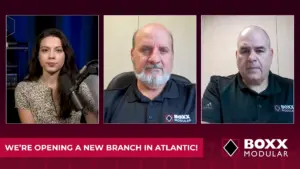 December 4, 2023
In an era where construction innovation is reshaping the industry, modular construction's growth continues to rise. In this episode of Built Modular, Boxx Modular's strategic expansion into Moncton, Atlantic Canada takes center stage. Host Gabrielle Bejarano welcomes Charles Landry and Ray Girouard to explore the implications of this venture. Bejarano, Landry, and Girouard discuss […]
Read More