At HIMSS 2023, Companies Tackle Physician Burnout With Voice-Based AI
In a time when healthcare professionals confront unparalleled obstacles, a pertinent question in the realm of healthcare is how can doctors be supported in preserving their well-being and efficiency. HIMSS 2023  unveiled cutting-edge healthcare solutions, targeting AI technology and the crucial issue of physician burnout during the COVID-19 pandemic—breakthroughs that could potentially transform the healthcare landscape.
HIMSS, in a nutshell, is an event that unites healthcare professionals, innovators, and market suppliers globally to discuss the latest advancements in healthcare technology. With over 1,000 companies attending, topics such as digital health transformation, AI, telehealth, and cybersecurity are explored. In addition, physician burnout, which has been exacerbated drastically by the pandemic, is one of the more critical concerns addressed. In fact, a recent study reveals that burnout rates among US physicians have skyrocketed, with one in five considering leaving their current practice within two years due to stress. HIMSS 2023 aimed to tackle this crisis by featuring Suki, a voice-based digital assistant for doctors. Suki aims to alleviate clinician burnout, allowing doctors to focus on patient care while improving efficiency and cost savings. 
Punit Soni, CEO of Suki, shares how Suki is making healthcare tech-assisted and invisible, enabling doctors to work more efficiently and reduce clinician burnout.
Punit's Thoughts:
"Great. Well, we are Suki, and we are a voice-based digital assistant for doctors. The biggest public health crisis in the country that very few people talk about is clinician burnout. And what Suki does is actually help doctors to basically focus on clinical care and makes healthcare tech-assisted when invisible so that they can do that.
That's why we are here, and we are trying to make sure that doctors can find out about us. In today's world where large language models and all sorts of AI technology is the absolute buzzword, we've been doing this for about five or six years.
And the key things about Suki is you can use Suki to dictate, you can use Suki to command and get information about the patient if you want to. You can also use Suki and put it in 'ambient mode' so that it can automatically generate notes out of a patient-doctor conversation. And if you like pure software that can actually help you do all of those things and works well with your EHRs, then Suki is the right place to be."
Article written by: Azam Saghir
Latest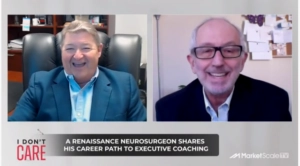 September 22, 2023
The healthcare industry grapples with an overload of information, patient safety concerns, and an increasingly digital landscape. This fact makes professionals who can bridge the gaps between various healthcare disciplines a precious commodity. In fact, according to the Healthcare Information and Management Systems Society (HIMSS), a lot of healthcare organizations and workers believe that […]
Read More