Though It Carries Risk, Implementing AI in Healthcare Will Help Physicians and Care Professionals Make Better Decisions
As AI gets better and better at its job, nearly every industry is trying to find meaningful ways to make use of it. The healthcare industry is no different, and for good reason: Implementing AI in healthcare will transform the entire ecosystem, from diagnosis to medicine delivery.
Not only will implementing AI in healthcare improve productivity, giving practitioners more time to focus on patients, but it will also reduce chances of misdiagnosis. Proof of this has already been seen: AI has been found to diagnose cancer in mammograms more accurately than radiologists. And its benefits likely do not end here, as experts say that in a few years, AI-enabled healthcare systems will even be able to predict when a person has a higher likelihood of developing a chronic disease. In addition, AI can help in the development of drugs and vaccines. In fact, at the start of the COVID-19 pandemic, it helped identify drugs that had the potential to treat the virus.
Michal Tzuchman Katz, MD, co-founder and CMO of Kahun, a company in the medtech space that has created a diagnostic clinical reasoning engine, details her view on why AI is such an important tool for the future of medicine and for supporting healthcare professionals.
Michal's Thoughts
"As a physician and the co-founder of an AI technology company that is building tools for a physician, I can definitely say that you are absolutely right, and these technologies will change the way that medicine is practiced as it is today. Bringing these new technologies will enhance and augment the way that physicians make decisions.
Medicine is a scientific profession. It is relying its decisions upon evidence-based medicine, statistical information that is published in peer-reviewed articles in different specialties, in different sections of medical fields. This information keeps growing and becomes more and more complex, as more and more diagnostic tools are available and more precise and personalized treatments are becoming more common practice. This change in the way that the medical profession has been until today is changing the way that clinical decision making should be made. It is obvious that new AI technologies need to be introduced and adopted by physicians in order to make the best, the most updated and accurate and safe decisions relating to the management of their patients."
Latest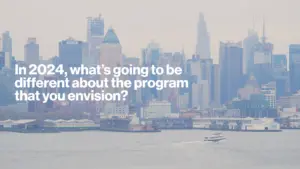 December 1, 2023
In the dynamic telecommunications landscape, Verizon's Partner Network continues to evolve, adapting to new trends and opportunities. For another segment featuring Mark Tina, VP of Indirect Channel Distribution and Channel Chief at Verizon Business Group, he explores exactly what types of significant changes and advancements the Verizon Partner Network will see in 2024. In this […]
Read More