Healthcare Data Access is Useless Without Proper Tools. How are Electronic Health Record (EHR) Vendors Addressing This?
Healthcare data access is useless without the proper tools. There is a massive amount of healthcare data available, and the Electronic Health Record (EHR) has only catalyzed the growth, with neurological imaging expanding by a factor of 25,000 from the late 1980s to the early 2010s, according to Nature. But data just sitting around collecting dust won't do any good—so what are EHR vendors doing to improve the patient experience? Well, EHR vendors such as Epic, Meditech, and Oracle Center have started working with Big Tech companies to address this issue.
Who are EHR vendors partnering with and why? According to Becker's Hospital Review, companies like Epic are collaborating with Google Cloud to move EHRs to the Cloud and provide healthcare systems with analytics and artificial intelligence (AI) for improved outcomes. Meditech will also be working with Google; one change includes including the Google Health search and summarization in their EHR to provide a chronological view of health history.
What are some of the other major shifts in EHR vendor and big-wig tech company collaborations? David Kemp, Healthcare Lead at Marketscale, discusses shifts in the healthcare industry and what some of the major EHR vendors have been doing lately to facilitate improved patient outcomes.
David's Thoughts
"Hey everybody, David Kemp here. I lead the healthcare vertical at MarketScale. You know, what we saw earlier this year were, mid-sized EHR companies like, Meditech and Athena Health, partnering with big tech companies. This was done to provide added benefits and features whether it was Google Cloud, to ensure stability for the providers, through the Meditech EHR platform or ompanies like Athena, partnering with Nuance to deliver an automated artificial intelligence transcription service within the platform.
I thought it was a unique way that these mid-sized EHR companies could start adding benefit and speed to value for their providers and maybe even gain some traction and some market share from large players in space like Epic and Cerner.
But just recently, last month, Epic has started to show signs of repairing their relationships with big techs, specifically Google Cloud, where they helped implement and transition their EHR to the Google Cloud platform for a provider up in New Jersey. And I think it's a unique shift for Epic strategy in responding to what we're seeing with some of these mid tech or mid-size companies like Meditech and Athena Health.
So, I think it's a strategic move to help them shore up any gaps that they have in their platform, but also provide some speed to value for the provider, similar to what we saw in other areas of the industry. So exciting times. It's, I think, overall, a great sign that large players in the space are showing willingness to open up their platforms and partner with other companies to provide the features and the benefits to the providers that they're needing in the tough times right now that the providers are experiencing."
Latest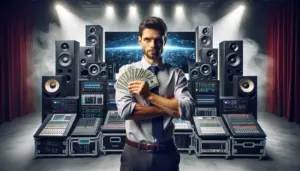 December 8, 2023
Mastering AV sales strategies in a global professional audio-visual (Pro AV) market, poised to reach $79.2 billion by 2028, requires much attention to detail. The surge in demand from corporate, government, and institutional sectors, driven by the need for enhanced productivity and efficient working environments, gives AV sales pros a lot of opportunity. In […]
Read More