When Billing CT Scans, a Little Effort Goes a Long Way
It should come as no surprise that providing a patient's clinical history can help verify and interpret results from a CT scan. Including as much information as possible when submitting an imaging order seems like an obvious practice, and yet researchers from the University of Chicago Medical Center found that many physicians needed a reminder. Led by Dr. Saad Ali, the team was able to show that the effort physicians put into writing clinical history reports has benefits not only for the patient, but for the doctor's own hospital or clinic as well. Interventions implemented by Ali's team led to payments and reimbursements arriving on average 21 days earlier.
To obtain these results, Ali's team took a look at their own emergency department and analyzed 1,000 requests for head CT scans. They began by simply analyzing the practices that were common in the department at the time. Not only did poor histories complicate the radiology department's efforts to interpret results, but they also negatively impacted the hospital's ability to get reimbursed.
According to their findings, inadequate histories can lead to confusion for the coders and billers. With a high rate of inaccurate billings, the denied claims begin to pile up significantly. Seeing this, the researchers were determined to find a way to rectify the situation. There had been plenty of studies that found poor history practices to impact image interpretation and billing, and yet bad habits still persist.
The team put together a program they called an "intervention." This primarily involved educating the emergency staff about how to write high quality histories. PowerPoint presentations were displayed in the department with helpful tips reinforcing the concepts outlined in the lectures. After this program, not only did image requisitions for CT scans receive higher scores, but payments and reimbursements arrived a full 21 days earlier on average than they had before Ali and his team stepped in.
Any medical practice can always use some improvements. For some, this might mean improving clinical histories, for others it may just mean ensuring that necessary equipment is on hand to properly care for patients. At CurveBeam, we are constantly pushing ourselves to find new ways to provide our customers with the best in weight-bearing CT technology. Just as our customers seek to provide the best care they can to their patients, we work hard to provide them with the equipment they need to do so. To learn more about CurveBeam, visit our About page.
Read more at curvebeam.com
Latest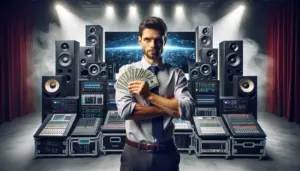 December 8, 2023
Mastering AV sales strategies in a global professional audio-visual (Pro AV) market, poised to reach $79.2 billion by 2028, requires much attention to detail. The surge in demand from corporate, government, and institutional sectors, driven by the need for enhanced productivity and efficient working environments, gives AV sales pros a lot of opportunity. In […]
Read More