Clinical Results Show Germination of the Probiotic DE111
Numerous studies have already proven that Deerland's probiotic DE111 is beneficial to human gut health, elevating digestive health, regularity, immune health, cardiovascular health, sports performance, body composition, and more.
However, a recent study revealed even more exciting news. DE111 does indeed germinate within the human intestine, meaning it can provide benefits from both the spore and vegetative cells.
To explain how important these findings are to proving DE111's efficacy, host Daniel Litwin was joined by a trio of experts in John Deaton, Vice President of Science & Technology, Joan Colom Comas, Research Scientist, and Steven Williams, Director of Education & Innovation.
The study was conducted as a randomized, crossover, double-blind, placebo-controlled study and involved 11 participants with stable ileostomies aged 24-75 years. They were given five billion CFU DE111 with a standardized meal or a placebo with the same meal, and each participant did the study twice, once with placebo and once with DE111, at least one week apart.
The contents of an ileal bag were collected every hour after administration of meal/treatment for eight hours, and spore and vegetative DE111 cell counts were determined.
DE111 spores and vegetative cells started showing up in ileal bags three hours post-ingestion and increased until about six hours, and recovered DE111 counts were equal to or greater than what was administered, proving germination.
Follow us on social media for the latest updates in B2B!
Twitter – @MarketScale
Facebook – facebook.com/marketscale
LinkedIn – linkedin.com/company/marketscale
Latest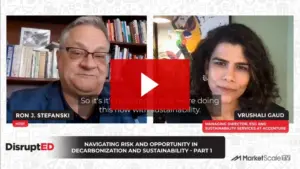 September 26, 2023
The global conversation has shifted dramatically towards decarbonization and sustainability in recent years. With the world experiencing unprecedented levels of disruption, from 5G technology to the challenges of a pandemic, the urgency to address climate change and its implications has never been more palpable. Although most business leaders see the vision of Sustainable Development […]
Read More