Disruptive Innovation in Dialysis and Medical Device Manufacturing
Disruptors come in many flavors and innovate countless industries. Healthcare is one space that welcomes technology disruption, where advancements in medical devices can improve the lives of many. Outset Medical is one such medical device manufacturer seeking to transform the dialysis experience.
Marc Nash, VP of Manufacturing at Outset Medical, joined DisruptED's Ron Stefanski to share his company's exciting work to improve the dialysis process and experience. A dialysis patient must endure a cumbersome lifelong process that creates a burden for them and their family, not to mention the physical toll it carries on the body.
"We wanted to see how we could give patients back their life," Nash said. "How could they take more control over what they could do? So, we created a product called Tablo, and we're now in the home market."
Making dialysis available in a patient's home is a critical first step in that journey to give patients their freedom back. With a typical dialysis treatment taking five hours and up to three times a week, not traveling to a healthcare facility to get treatment can be a game-changer.
"Imagine if you wanted to do dialysis at 7 p.m. to 10 p.m. or 11 p.m., most clinics are not going to be open during these times," Nash said. "Where if you're in the comfort of your house, you can go to work, take care of the kids, and then go about your dialysis."
Nash said it comes down to the people within Outset Medical to make strides in dialysis.
"When I hire within my organization, I'm looking for attitude. I want to see the people that have grit and determination. Most people are not going to come to my organization knowing dialysis; they're going to come from either the Medtech space, aerospace, they're going to come from automotive, or tech, and I'm going to have to teach them dialysis. That's the easy part. What's hard to teach is grit."
Latest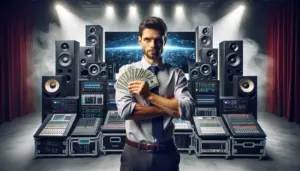 December 8, 2023
Mastering AV sales strategies in a global professional audio-visual (Pro AV) market, poised to reach $79.2 billion by 2028, requires much attention to detail. The surge in demand from corporate, government, and institutional sectors, driven by the need for enhanced productivity and efficient working environments, gives AV sales pros a lot of opportunity. In […]
Read More