Driving a better patient experience journey together: Unlimited Systems and Relatient
Delivering a better patient experience is crucial in healthcare, especially in oncology, where utilizing tools to collect patient-reported outcomes and addressing gaps in care can make a world of difference. Unlimited Systems is on a mission to provide solutions that continue the trend of democratizing personalized healthcare and improving patient care in a post-pandemic world.
For many years, Unlimited Systems focused on oncology as its primary specialty but is branching out to aid other areas of healthcare. Through its partnerships with companies such as Relatient, Unlimited Systems seeks to be a total solution provider for physician groups, hospitals, and health systems. Dash Talk by Relatient host Gabrielle Bejarano, spoke with Brian Gockerman, Founder and CEO of Unlimited Systems about the challenges in healthcare and how Unlimited Systems addresses them.
Bejarano and Gockerman's discussion about the patient experience on DashTalk includes the following:
• Solving challenges within the healthcare network during the pandemic and in the post-pandemic world
• Unlimited Systems' partnership with Relatient to provide better access tools and improve patient outcomes
• How the partnership can continue to support the specialty healthcare space and enterprise environments
"We are looking forward to having the Relatient team at our Direction's Conference on May 9-11 in Cincinnati, where Relatient and our long-term partnership will be featured to our customers," Gockerman said. "We're in the midst, right now, with our install base and graduating them to new Microsoft Azure cloud-native capabilities in our own software. Relatient is an important part of that movement, and we continue to advocate for their use."
About Brian
Brian Gockerman is an experienced healthcare systems solution provider with over twenty-five years in the industry. Gockerman holds a B.S. in Industrial Engineering from Stanford University and an MBA in Healthcare Administration from The Wharton School of Business.
Latest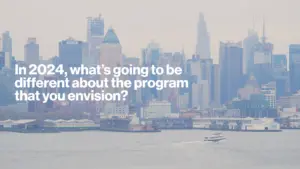 December 1, 2023
In the dynamic telecommunications landscape, Verizon's Partner Network continues to evolve, adapting to new trends and opportunities. For another segment featuring Mark Tina, VP of Indirect Channel Distribution and Channel Chief at Verizon Business Group, he explores exactly what types of significant changes and advancements the Verizon Partner Network will see in 2024. In this […]
Read More