Open Enrollment Season: What Employers and Employees Need to Know Before it Ends
Employers and employees are in the thick of open enrollment season, and the end date is coming to close. For the ACA marketplace, for example, open enrollment ends on January 15, 2023. Overall, companies are going to have to make important decisions about what health insurance they offer to employees, and employees will need to wade through the options to figure out which plans best suit their needs, whether those are ACA-offered, employer-offered, or otherwise.
Nick Love, a Benefit Strategist at Brinson Benefits breaks down what beneficiaries need to know about this year's open enrollment seasons, along with some other tips, misconceptions and more for employers and employees alike.
Nick's Thoughts:
"We typically see employers just not take open enrollment seriously. Unfortunately, that has a pretty big impact for employees in their households. So, I would encourage employers to take open enrollment, seriously, and for employees as well. Take your time evaluating all the options that you have at your disposal.
Compare what your spouse or significant other has through their employer and make the best decision for you and your family based on the things being offered to both you and your spouse. One thing to keep in mind is whatever you decide at open enrollment remains in effect for a full year unless you have a qualifying life event, which, usually includes things like getting married, getting divorced, having a child, those sort of things.
And so, when that happens, you have a very specific timeframe to notify HR. And so that, that timeframe is 30 days. Make sure you do that within that range so that you can make those mid-year. I would say education's a big deal. Understanding what deductibles are, what co-insurance means what it's gonna cost when you go to the doctor, those sort of things.
Some of the things that I think we're gonna see more of in 2023 are folks gravitating towards HSA plans and more, taking on more of a responsibility in terms of what it's gonna cost them when they go to the doctor and how they're going to use that information to make the best decision as to where to go, when to go.
I think we're gonna continue to see telemedicine have a big impact on people's decisions and really leaning on the ability to speak to a provider via a telephone or through your computer and not having to physically go to a doctor's office."
Latest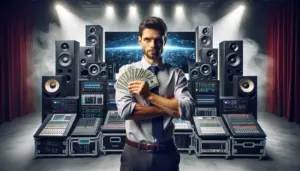 December 8, 2023
Mastering AV sales strategies in a global professional audio-visual (Pro AV) market, poised to reach $79.2 billion by 2028, requires much attention to detail. The surge in demand from corporate, government, and institutional sectors, driven by the need for enhanced productivity and efficient working environments, gives AV sales pros a lot of opportunity. In […]
Read More