Empowering Better Communication among Community Healthcare Stakeholders
The challenges healthcare executives and administrators face are constantly changing. Host Kevin Stevenson talks with the heroes behind the heroes that are enabling hospitals, urgent care centers and telemedicine operators to spend their time tending to patients, while they handle the logistics.
On this episode of I Don't Care, host Kevin Stevenson talks with Ted Quinn, the CEO and Co-founder of Activate Care, a digital health company helping everybody engaged in the healthcare system – clinicians, patients, families, and communities – act together to make health happen, wherever they are.
The duo dug into CIEs* or a Community Information Exchange platform. During the pandemic around the country, many healthcare organizations struggled to communicate between parties. Many of these issues could be solved if important information about patients and care could be shared between stakeholders.
"A community information exchange is a platform that enables all those stakeholders in a community, like a town or a county, to come together and share its space" – Ted Quinn
If these stakeholders can share this information, they can come together to drive the outcomes they want to see.
The pandemic highlighted some of the issues that these community organizations lacked. Some of these things include having different terminologies, priorities, incentive programs, and how they communicate. The goal moving forward is to have these organizations communicate with each other so care is improved for patients.
*Community Information Exchange' and/or 'CIE' are registered trademarks of Community Information Exchange, Inc., and no claim of ownership is made thereto by any use herein.
Follow us on social media for the latest updates in B2B!
Twitter – @MarketScale
Facebook – facebook.com/marketscale
LinkedIn – linkedin.com/company/marketscale
Latest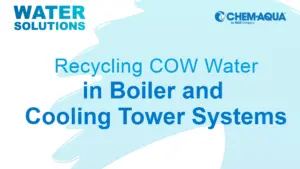 December 7, 2023
For the latest episode of ChemAqua's Water Solutions podcast, the focus was on an innovative approach to water conservation in the dairy industry. The show examined the potential of reusing Condensate of Whey (COW) water, a byproduct of dairy processing, and highlighted some of its economic and environmental benefits. Hosted by Dani Waddell, the informative […]
Read More