Empowering Your Employees in the Face of Modern Workplace Stresses
The challenges healthcare executives and administrators face are constantly changing. Host Kevin Stevenson talks with the heroes behind the heroes that are enabling hospitals, urgent care centers and telemedicine operators to spend their time tending to patients, while they handle the logistics.
For an organization to find long-term success, it requires a commitment from all parties. Employers have to commit to employees and vice-versa. But how can organizations get it right in a world of overworked and stressed-out staff members?
Joining I Don't Care to talk about this is employee wellness and engagement guru Lorna Borenstein, CEO and founder of Grokker. She had the vision to start the employee wellbeing company after working for big tech companies like eBay and Yahoo and realizing the employee-employer dynamic needed to shift.
Borenstein explained the transformation. "The agreement used to be that a company would pay you well, and you wouldn't bring your problems to work. Now, younger generations aren't making money like their parents, and they were raised by people who gave them a voice. They have no blind loyalty and expect more."
Grokker recently released its 2021 Working Americans' State of Stress Report finding that 80% of workers are stressed out. Younger generations have the highest levels. This stress impacts their lives at work and home.
Borenstein said that for employees to be engaged requires a sense of purpose, belonging, and balance. Most companies do well on the first two, but the balance is harder. The pandemic, in some ways, had made balance more possible. "The good news is that companies woke up and realized their people are their business," she said.
That awakening led to the Human Connection Movement, a philosophy that Borenstein writes about in her book, It's Personal: The Business Case for Caring. "Employees are saying you need to care about me."
Borenstein also discussed examples of the changing paradigm with clients like CVS Health. She noted, "Now 85% of employers consider employee wellbeing to be part of their business strategy; so, it's culture as strategy."

Latest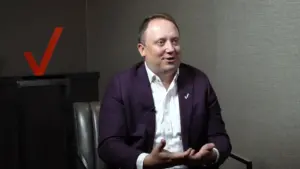 December 1, 2023
For a special episode of The Verizon Partner Network the focus was on the considerable role of partnerships in the Verizon Partner Program and the leaders shared their perspectives on the initiative. Their conversation brought about a lot of thought-providing context on the evolving telecommunications landscape. In today's era, collaboration and integration are key to […]
Read More