Orange Intelligenz: The Evolution and Adoption of Collaborative Robots
Collaborative robotics and the use cases for these kinds of robotic solutions have exploded over the past five years, with those at the cutting edge of the robotics industry innovating ways to leverage the technology in day-to-day operations across a variety of industries.
To examine this industry trend, KUKA Robotics Director of Medical Robotics Corey Ryan joined host Tyler Kern on this episode of Orange Intelligenz, a KUKA Robotics podcast.
In particular, Ryan said that, while the idea of collaborative robotics has been around for a long time – decades, even – societal and standards-related acceptance have begun to accelerate in recent years.
"It's become this tangible thing," he said. "People really are accepting the idea of putting a robot in the workspace without the safety fencing and without the traditional, industrial mindset. We've seen an explosion in the market space."
A lot of this acceptance has resulted from a movement to design robots with rounded edges, fewer pinch points, and more safety features tailored to operation in the same space as human employees.
It all boils down to a desire to not have to separate the person from the robot, allowing the best of both to shine.
Collaborative robotics have applications across every industry as automation steps up to play a greater role in the way the world conducts business, though the medical industry has taken large steps toward widespread adoption.
"I handle the medical business, so virtually every robot I sell is collaborative," Ryan said. "There's going to be somebody in that workspace. … The acceptance of robotics, plus the fact that – in medical, especially – there's already enough accepted applications and FDA-approved applications that not having a robot on your system in some market spaces, like orthopedics, it's a hindrance."
For the latest news, videos, and podcasts in the Healthcare Industry, be sure to subscribe to our industry publication.
Follow us on social media for the latest updates in B2B!
Twitter – @MarketScale
Facebook – facebook.com/marketscale
LinkedIn – linkedin.com/company/marketscale
Latest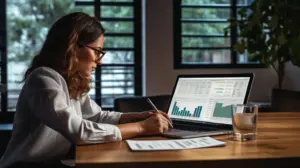 October 4, 2023
The intersection between security and financial acumen often gets overshadowed in a constantly changing economic landscape. While security is essential for safeguarding assets and ensuring continuity, its perceived monetary value is mired in misconceptions affecting company profitability. For many, security is viewed primarily as an expense rather than a potential cost-saver. However, understanding […]
Read More