Flu Season Presenting Difficulties for Already Short-Staffed Hospitals
As the healthcare industry heads into another busy flu season, Kevin Stevenson, host of the I Don't Care podcast on MarketScale, explains how hospitals are tackling staffing shortages. On the back of a challenging time with COVID-19, the healthcare industry isn't attracting talent at pre-pandemic rates. These challenges, paired with hospitals full of flu patients, is causing healthcare administrators to look outside of healthcare at other staffing models.
Kevin's Thoughts:
We're seeing difficulties in recruitment throughout healthcare. Many healthcare professionals, nurses, therapists, you name it, left the profession over the last couple of years, and we know nursing schools are having record-low applications. And so we're just not able to meet the workforce demands.
And so what we're trying to do is we're, we're doing everything we can to keep patients safe. But we're looking at staffing models. We're looking at using patient care technicians or you name it, to help us extend the care that we provide to our patients. And, we are seeing our hospital capacity really increase quite a bit in a lot earlier this year.
I know my hospital right now, we're at full capacity, and this isn't really even the typical flu season.
Latest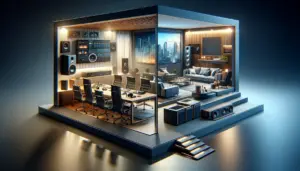 November 27, 2023
In this episode of "Pro AV Today," host Ben Thomas sits down with Audra Kinsley of Sonos Professional to unpack a topic that's causing (sound) waves in the audio industry: the fusion of commercial and residential audio systems. As we navigate through a landscape where consumer and professional audio worlds are increasingly intersecting, Sonos steps […]
Read More