FOOTInnovate Webinar Recap: Application of Weightbearing CT (WBCT) in Common Foot & Ankle Disorders
Applications of Weight Bearing CT in Common Foot & Ankle Disorders (Click here to access webinar)
Presented by Dr. Daniel J. Cuttica, DO
Key Points
The optimal workflow for in-office Weight Bearing CT (WBCT) imaging is to get insurance authorization, perform the scan, and review scan results all during the initial patient appointment.
Hallux valgus is a tri-plane deformity, and weight bearing allows for a better understanding of coronal plane rotation.
Post-operatively, weight bearing CT can provide a precise view of the rate of fusion healing.
The webcast covered the importance of weight bearing in foot and ankle imaging, the applications of weight bearing CT in common foot and ankle disorders, and how it can be incorporated effortlessly into practices.
According to Dr. Cuttica, "Weight bearing is the functional position of the foot. It allows for us to better determine alignment, to form an assessment of the foot, and to formulate treatment plans. So, weightbearing, obviously as we all know, is very, very important."
A surgeon at Orthopaedic Foot & Ankle Center (OFAC) in Falls Church, Virginia, Dr. Daniel J. Cuttica, DO, boasts a number of specialties and interests, including foot and ankle surgery, reconstructive surgery, sports-related foot and ankle disorders, cartilage disorders, total ankle replacement, diabetic limb salvage, and dance medicine.
Background
Dr. Cuttica states, "When you evaluate a patient, in addition to clinical exam, you know that imaging is going to be very valuable in diagnosing, treating, and assessing outcomes in foot and ankle."
However, with weight bearing imaging, you can more reliably identify pathology such as subtle arch collapse, loss of cartilage/joint space, degenerative changes, and impingement.
The Limitations of Conventional CT vs. the Benefits of WBCT
 When compared to plain X-Rays, "Computed Tomography (CT) can be very, very beneficial for bone and joint problems, and it does give us a large amount of additional information." However, Dr. Cuttica explains, "The biggest limitation, at least in foot and ankle, with CT again, is probably your inability to obtain weight bearing images."
The benefits of CBCTs include:
Easy to operate
Shorter scan time
Patient safety
Optimal patient positioning
Offloads capacity
Flexible siting/easy relocation
There are also many advantages to using WBCT, including:
Ability to obtain weight bearing images
High contrast and spatial resolution
Fast image acquisition time
Decreased radiation (typically 0.01-0.03 mSv vs. 0.07 mSv for Conventional CT)
Relatively small scanner size with portability
Less capitalization cost than Conventional CT
Implementing In-Office WBCT for Foot & Ankle
 According to Dr. Cuttica, because of its low radiation dosage and small size, CBCT is ideal for an office setting. For patients, a WBCT scanner in the office is more convenient, can help to avoid unnecessary follow up appointments, and allows for immediate feedback of their diagnosis. For physicians, an in-office WBCT is also more convenient, enabling quicker treatment plan formulation, helping to avoid overbooking, while allowing for more rapid surgery scheduling.
Dr. Cuttica reviewed three office workflow options for in-office WBCT imaging:
Option A – Scan and have patient follow up to go over scans at a later date (not the most efficient)
Option B – Get insurance authorization and perform the scan at the next visit before the patient is seen
Option C – Get insurance authorization, perform the scan, and go over scans at initial appointment (most efficient and most convenient for patients)
Further, WBCT images can be conveniently emailed or uploaded to another doctor or radiologist.
Dr. Cuttica said the most common and beneficial WBCT foot and ankle applications include:
Hallux valgus
Pes planovalgus
Midfoot/Lis Franc injury
Ankle fracture/syndesmosis
Deformity/Charcot
OCD
Bone healing
 In Hallux Valgus, WBCT Scans Accentuate Deformities & Guide Treatment
(17:03) In hallux valgus—a triplane deformity—it's necessary to understand all the components of the malformation. Dr. Cuttica pointed out that WBCT allows for better understanding of coronal plane rotation. As you can see in the image below (17:40), the WBCT imaging clearly shows the first metatarsal joint architecture, the sesamoid position, if there is any flattening/erosion of the crista, as well as a first metatarsal rotation, all of which need to be taken into account when treating bunion deformity.
(18:16) Dr. Cuttica displayed a typical case of a 47-year-old female with bunion pain who, upon both exam and radiographically, had a hypermobile first ray with some inter-gapping at her first tarsal-metatarsal joint, as well as a moderately sized bunion. (19:43) When Dr. Cuttica performed a WBCT, the rotation of her first metatarsal was visible. Due to the patient's instability and hypermobility at the joint, Cuttica's team treated her with the Lapidus procedure—correcting her IM angle and coronal frontal plane rotation—as well as an Akin osteotomy.
(19:55) At the 6-week post-op exam, the patient's foot looked fairly healed, and allowed the patient to progress with some activity. (20:19) At the 12-week exam, however, an additional WBCT allowed Dr. Cuttica to better assess the sesamoid position and evaluate the fusion. The sesamoids looked reduced, but it was also revealed that the patient was not fully fused.
However, this screen capture from Dr. Cuttica's webinar revealed the patient's bones had not fully fused after undergoing a lapidus procedure.
These comprehensive views enabled Dr. Cuttica to better progress with the patient's treatment—in this case, limiting the patient's activities as she had a bit more healing to go.
Latest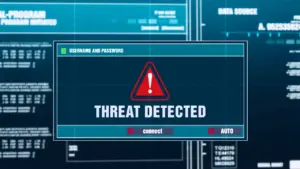 December 8, 2023
To keep up with the growing threats, cybersecurity in healthcare is a high-level priority. The recent ransomware attack on Ardent Health underscores a stark reality for the healthcare industry: cyber threats are a significant and ongoing challenge. Mike Saylor, the CEO of Blackswan Cybersecurity, LLC, sheds light on the complexities of cybersecurity in healthcare. […]
Read More