How a Side Hustle Evolved Into One of the Largest HSA Providers
Challenges in healthcare impact every player—payers, HSA providers, and patients. What's the modern-day answer to rising costs and better care? It's a complex answer, and Steve Neeleman, Founder & Vice Chairman of HealthEquity, spoke with I Don't Care host Kevin Stevenson on the topic.
After working for Southwest Airlines, Neeleman graduated from medical school and served as a trauma surgeon. At the same time, he started HealthEquity. "The question was why don't we treat our customers, patients, the same way we did at Southwest. The notion became consumer-directed healthcare, opening up opportunities for them to make better choices."
Personal health issues also sparked the ideas around managing health savings accounts (HSAs). He and his daughter faced these, with high out-of-pocket costs. Something that many insured people experience every day.
"HIPAA had a pilot program for HSAs and then extended it. It's your money, and you don't pay taxes on it. It functions like a 401K," Neeleman explained.
Neeleman described the future of HSA providers and healthcare spending, citing its need to connect with centers of excellence. He recalled that after passing his surgical boards, he wasn't an expert at every surgery because medicine is complicated. "Centers of excellence have completed a procedure many times. If you marry that with consumer-directed healthcare, payers will direct patients there because it saves money, and the quality of care is better."
Educating patients about health savings account and concepts of navigating their healthcare is part of the equation. Neeleman also speaks to doctors about them. "Doctors are trying to embrace consumerism. They didn't use to have to be attractive to get patients."
More Stories Like This:
Latest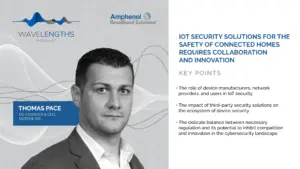 November 28, 2023
Since the introduction of smart devices, the world has increasingly become dominated by interconnected devices but IoT securitydemands are also growing. The "connected home" has shifted from what was once a futuristic concept to reality. With the global smart home market projected to reach $135.3 billion by 2025, the conversation around the security of these […]
Read More