Which Innovations Are Set to Transform the Medical Device Market?
The challenges healthcare executives and administrators face are constantly changing. Host Kevin Stevenson talks with the heroes behind the heroes that are enabling hospitals, urgent care centers and telemedicine operators to spend their time tending to patients, while they handle the logistics.
On this episode of I Don't Care, Host Kevin Stevenson talked with Dr. Dan Burnett, President, and CEO of Theranova, an experienced medical device developer with a track record of creating innovating and practical solutions to large markets with unmet needs. The duo dug into Theranova and spinning out companies after funding.
Acting as a medical device incubator or venture studio, Theranova builds medical devices, nurtures them, raises money for them, and once they get to the right stage, they bring on a management team and forge them into their own entity.
"Theranova is, essentially, an idea generator and a company generator," Burnett said, "that averages a little over one a year in terms of companies we form and spin out. We've had 17 in the last 15 years."
They focus on various healthcare areas, and it just depends on where they see a need. However, they have been honing in on mechatronics and advanced sensing technologies and using those to gather proprietary data streams, which they believe will revolutionize medicine.
Where they once let go of companies quickly, Theranova is holding onto companies longer and longer. Previously, a company would spin out with Series A financing, become its own company and leave Theranova.
"Increasingly, Theranova is investing in these companies, and we're getting grants and angel capital that allow it to stay inside of Theranova longer," Burnett said. "By the time it spins out, it is of greater value than the initial spinout stage."
Listen to hear more about where Theranova sees itself in five to ten years.
Follow us on social media for the latest updates in B2B!
Twitter – @MarketScale
Facebook – facebook.com/marketscale
LinkedIn – linkedin.com/company/marketscale
Latest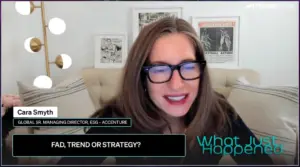 November 30, 2023
The world is in an era where sustainability and responsible retail business practices are increasingly crucial. For the latest episode of "What Just Happened," host Christine Russo further explored the hows and whys of this pressing issue by interviewing Cara Smyth, Global Senior Managing Director for ESG and Responsible Retail at Accenture, and Chair […]
Read More