How Caption AI Technology Is Accelerating Diagnosis in the Health Sector
Caption Health, a leader in AI and services to improve heart ultrasound diagnostics recently received regulatory approvals for its Caption AI Technology Platform in Canada and Australia.
Company CEO Steve Cashman highlighted that easy-to-use technology, specifically images that patients can send to doctors, has been a prime driver of better outcomes.
Steve's Thoughts:
"That was what was magic for me. I spent the prior decade in telehealth, right? And so that was all about how do I get the right doctor to the right place with the right patient, right? And technology brought those barriers away. But what we didn't solve was having the right information then.
And at EnTouch, we had one application. Teledoc acquired the company two years ago and I left, but we had a telestroke program and we had about 3000 rural emergency departments. And what was unique about it is we could get a CT and get the image of your brain and get a neurologist on the other end of Skype like we're doing today, within six minutes.
They could determine if you've had a stroke and how to treat it, and literally, you're losing millions of brain cells every minute as this is going on. They say time is the brain but without that image of what happened with that stroke. There doesn't matter if you have tender neurologists on the phone, there's nothing to do.
They're missing the data they need to decide how to treat you. And so that was what was special about the caption. When they called me, I was like, Man, like I don't want to wait for my grandma to be in an ambulance. This happened to her, and she passed, unfortunately. I want to know the week before; does she have a clogged artery?
Does she have a structural heart issue? And. So how do we get that image before? How do we get that image out of you right now?
Latest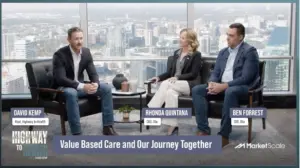 December 7, 2023
As of recent times, the healthcare industry has been progressively shifting towards value-based care, a model that emphasizes patient outcomes over the quantity of services delivered. This transition represents a significant shift that promises to enhance patient experiences and outcomes while controlling healthcare costs. With a growing emphasis on this approach, especially over the […]
Read More