How Mark Cuban is Turning the Prescription Drug Industry Upside Down
When Mark Cuban enters an industry, he typically disrupts it in one way or another. And that's precisely what it appears he has done once again, though this time in the healthcare space. His Cost Plus Drug Company has turned the industry on its head and introduced transparency to the previously opaque area of prescription drug prices.
"We started [Mark Cuban Cost Plus Drug Company] with the goal of being the low-cost provider for generic drugs," Cuban told MarketScale. 
The company's website features a chart displaying the stark difference in the retail price of these drugs versus what consumers pay through their platform. But perhaps the most striking thing about the Cost Plus Drug Company is the clarity of the pricing structure. Leadership has been vocal, on the site and on social media, about how Cost Plus Drugs gets to its final prices in an effort to set a new standard for patient-focused transparency.
For example, every drug is priced with the same markups: a 15% markup supports operations, a $3 charge covers pharmacy labor, and then the usual fixed and variable costs of shipping round out the total. Some savings are minimal; a 60-count of 20mg Fluoxetine, the generic alternative for depression and OCD treatment drug Prozac, costs $4.80 for a Cost Plus Drugs customer, compared to the retail price of $43.80.
Some savings are so stark that they warrant a double take. For a 30-count of 400mg Imatinib, the generic version of leukemia-treatment drug Gleevec, Cost Plus Drugs customers pay $47.50, compared to the retail price of $9,657.40, an enormous difference in cost.
If you are looking for lower pricing on your generic drug purchases, go to https://t.co/LYIIV9Pqzd and sign up ! All drugs are priced at cost plus 15% ! Sign up and share your thoughts and experiences with us ! https://t.co/bFXCMccmvy

— Mark Cuban (@mcuban) January 20, 2022
"We will do whatever it takes to get affordable pharmaceuticals to patients," said Alex Oshmyansky, CEO of Mark Cuban Cost Plus Drug. "The markup on potentially lifesaving drugs that people depend on is a problem that can't be ignored. It is imperative that we take action and help expand access to these medications for those who need them most."
With this cost savings business model, underinsured or uninsured patients who'd be paying close to or full price would see the most immediate benefits. Even insured patients though, according to the company's site, would pay "less than what you would pay when using your insurance at a typical pharmacy."
The cost of drugs in the United States has been a problem for some time, garnering attention from President Biden and putting a financial strain on many Americans. According to Kevin Stevenson, Director of Strategic Operations at Providence Healthcare Network in Waco, TX, affecting positive change in this side of the industry is critical, as for patients, it's truly a life or death situation.
"People who don't have insurance that are paying out of pocket, oftentimes they skip medications because they take food out of their family's mouth," Stevenson said.
The high-profile attention that Cuban's company, as well as the issue at-large, is getting could be a sign of things to come for healthcare in the United States.
"I think we're seeing people in healthcare now that are having that more entrepreneurial mindset, that are looking at problems and saying how can we look at it from a different viewpoint to try to solve this," he said.
Stevenson admitted that change in healthcare can come slowly, but with sharks like Mark Cuban in the water, change could be coming sooner rather than later. 
Latest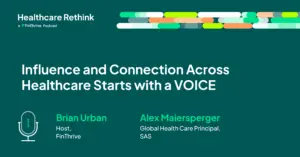 September 29, 2023
In the latest episode of the Healthcare Rethink podcast, presented by FinThrive, host Brian Urban sits down with Alex Maiersperger, the Global Principal Healthcare at SAS. Their conversation charts the role voice plays in influencing and connecting the healthcare industry. Maiersperger, who co-founded the Advancement League, shares his journey from being a healthcare optimist to […]
Read More