How Soda Health Uses Technology to Eliminate Health Inequity
In this episode of Healthcare Rethink, host Brian Urban sits down with Sarah Rumfelt from Soda Health to delve into an exciting topic: addressing social determinants of health to revolutionize the healthcare landscape.
Rumfelt shares how Soda Health leverages data analytics to identify health plan members at risk due to factors like food insecurity, housing instability, and transportation issues. By pinpointing these individuals, they can design targeted interventions and support programs tailored to their specific needs.
Urban and Rumfelt cover:
Soda Health's use of data analytics to identify at-risk health plan members based on social determinants of health and implements targeted interventions and support programs to meet their specific needs.
Soda Health's partnerships with local retailers and food banks in their high-value retail network, ensuring convenient access to nutritious foods for members facing limited options.
To engage and inform members, Soda Health utilizes cutting-edge technology and communication tools. Personalized messages are sent, providing valuable information about available resources, preventive care screenings, and upcoming appointments. By leveraging these innovative solutions, Soda Health not only improves overall health outcomes but also helps health plans meet HEDIS measures—a set of standardized quality performance metrics used to assess care delivery.
Rumfelt also highlights how Soda Health's platform assists health plans in achieving specific goals, such as increasing childhood immunization rates. By identifying children at risk of missing vaccinations due to barriers like transportation issues, they offer transportation assistance and coordinate mobile clinics in underserved areas. Closing these gaps in HEDIS measures leads to improved care quality and the potential for higher quality bonus payments from regulatory agencies like CMS.
Looking ahead, Soda Health aims to expand its high-value retail network and forge partnerships with community organizations. Through their commitment to addressing social determinants of health using data analytics and innovative interventions, they aspire to eliminate health inequities and improve access to care for vulnerable populations.
Latest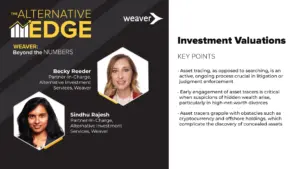 December 4, 2023
In this episode of The Alternative Edge, a Weaver: Beyond the Numbers Podcast, host Becky Reeder, an audit partner and co-leader of the alternative investments practice at Weaver, engages with Sindhu Rajesh, an Alternative Investment Services Partner with Weaver. They unpack the complexities of venture fund valuations, offering critical insights into industry dynamics and best […]
Read More