How to Prevent Employee Burnout in Nursing Fields
The challenges healthcare executives and administrators face are constantly changing. Host Kevin Stevenson talks with the heroes behind the heroes that are enabling hospitals, urgent care centers and telemedicine operators to spend their time tending to patients, while they handle the logistics.
While 2020 was a year of change and challenges for many, nurses, in particular, have risen to the occasion and shown up to provide support in a time when they are needed most. Their bravery, hard work and compassion during the coronavirus pandemic is something none of us should ever take for granted.
Kevin Stevenson, host, I Don't Care had the chance to speak to Dr. Karen Wade, Author, Career Clarity for Nurses about some of the issues hospital administrators and nurses are dealing with during the pandemic.
It's understandable that many nurses are feeling burnout after months of working on the front lines. Dr. Ward wrote a book designed to help nurses stay on the job in the face of COVID-19 challenges and other pressing issues related to healthcare system flaws.
She explained that, even before the pandemic, there was a high rate of nurses considering leaving their jobs, and that number has increased from around 40% to 60% since the pandemic hit.
"I think that there's going to be kind of a reckoning at the end of this. I think a lot of nurses, just out of a sense of duty and devotion, are hanging in there as long as they can. But, at the end, I think they're going to take a breath, and they're dealing with a certain amount of trauma that they are exposed to every day, and they're going to need to take care of themselves," Dr. Ward said.
She explained that nurses simply don't have time to take care of themselves in the way they need to right now, and there may come a time when the dust settles that they begin to re-evaluate their future.
"Do I still want to do this? How do I take care of myself? It's going to be like a post-trauma, post-crisis experience, and it'll be interesting to see how that pans out. But we're trying to put programs in place now to help to help people have options to be able to deal with those issues," Dr. Ward noted.
To continue this important conversation on the challenges nurses and healthcare workers are facing during the pandemic, check out the latest episode of I Don't Care.

Latest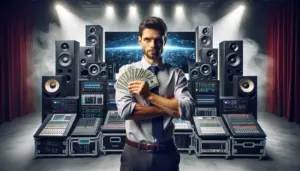 December 8, 2023
Mastering AV sales strategies in a global professional audio-visual (Pro AV) market, poised to reach $79.2 billion by 2028, requires much attention to detail. The surge in demand from corporate, government, and institutional sectors, driven by the need for enhanced productivity and efficient working environments, gives AV sales pros a lot of opportunity. In […]
Read More