How Will AI Make Healthcare More Proactive?
The challenges healthcare executives and administrators face are constantly changing. Host Kevin Stevenson talks with the heroes behind the heroes that are enabling hospitals, urgent care centers and telemedicine operators to spend their time tending to patients, while they handle the logistics.
On this episode of I Don't Care, Host Kevin Stevenson talked with Michael Gorton, CEO, Recuro Health, an integrated digital health solution at the intersection of quality, access, and affordability. Serving employers, providers, and managed care organizations. Gorton is also a Co-Founder of Teladoc, a telehealth company that proved vital and disruptive during the COVID-19 Pandemic. The duo talked about Recuro, Teladoc, and Gorton's views on the healthcare industry.
"Anybody that knows anything about our healthcare system knows it's not a healthcare system, it's a sick care system." – Michael Gorton
Recuro is currently in heavy acquisition mode, and Gorton plans on it being a disruptive vessel in the healthcare system. The goal is to keep people healthy and not let them get sick, which he says is one of the main issues with the current system. Gorton thinks that it's crazy that the current model doesn't have this focus.
"Anybody that knows anything about our healthcare system knows it's not a healthcare system. It's a sick care system," Gorton said. "If you want to understand why costs go up year after year, it's because we're not keeping people healthy. We're letting them get sick and taking care of them when they get sick."
Recuro Health will also have a focus on behavioral health. They also have an element that focuses on testing. With these new aspects, they will send users a box twice a year to take samples. Samples could be urine, hair, or blood. With this information, they'll be able to understand a user's health more accurately.
"As simple as getting in your car and looking at the gauge and saying 'I need to swing by the gas station and get some gasoline.' Or, 'I haven't changed my oil in 5000 miles. I better do that.' We're going to give you the same kind of tool kit," Gorton said.
Follow us on social media for the latest updates in B2B!
Twitter – @MarketScale
Facebook – facebook.com/marketscale
LinkedIn – linkedin.com/company/marketscale
Latest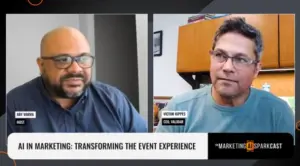 November 28, 2023
AI has been gradually changing the landscape of event technology at a very rapid pace. In an industry where staying ahead of technological trends is crucial, AI's impact on marketing and event management has become increasingly significant. As witnessed in the rise of account-based marketing and enhanced personalization, AI is effectively reshaping how events […]
Read More