The Importance of Disclosure and Conflicts of Interest
Key Points:
Dr. Sprintz weighs in on the latest news of the opioid crisis.
McKinsey & Company under fire for conflict of interest with Purdue Pharma and FDA.
Disclosure, honesty, and transparency are among the top traits in ethical business.
Possibly one of the hottest topics in the pain and addiction management industry is the opioid crisis, where healthcare providers began prescribing opioids at greater rates in the 1990s with the belief that the product was not addictive. What soon ensued are millions of people who have died, misused, and become addicted to opioids. Now, big pharma companies and those associated are under fire for their work in allegedly covering up the addictive component.
As a subject matter expert in the topic, Founder and CEO of the Sprintz Center for Pain and Recovery, Dr. Michael Sprintz, broke down the latest New York Times article on the consulting group McKinsey & Company's conflict of interest when working with Purdue Pharma, an opioid manufacturer, and the U.S. Food and Drug Administration (FDA).
While working with these two organizations can be a conflict of interest, the disclosure (or lack thereof) piece is what Dr. Sprintz believes got them in trouble. With Dr. Sprintz working on the FDA advisory committee for analgesic and anesthetic drug products, he is very well-versed in how transparency is a top concern. In fact, before every meeting, the group reveals who they have done business with, and if someone has a conflict of interest, they recuse themselves from the discussion and voting to ensure there is zero impartiality.
So, what's the real issue here? According to Dr. Sprintz, McKinsey's employees who consulted Purdue Pharma also advised the FDA on relating regulatory and policy issues, and none of this was disclosed.
This has a deeper issue than what's on the surface, because it could be a good thing to have someone seeing both sides of the aisle — if done correctly, of course. "It reminds us about the importance of being direct and being open," explained Dr. Sprintz.
By being honest, the FDA could make the determining factor of what's acceptable in the relationship, and what's not. "It's about honest communication and transparency, and if you have those, you can work through a lot of potential issues and potential conflicts."
To connect with Dr. Sprintz, email him at michael@drsprintz.com or visit his website.
Latest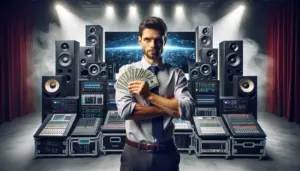 December 8, 2023
Mastering AV sales strategies in a global professional audio-visual (Pro AV) market, poised to reach $79.2 billion by 2028, requires much attention to detail. The surge in demand from corporate, government, and institutional sectors, driven by the need for enhanced productivity and efficient working environments, gives AV sales pros a lot of opportunity. In […]
Read More