Increase in Online Prescriptions During COVID-19 Pandemic
Key Points:
Traditional pharmacy services make getting prescriptions complicated.
Pharmacies turned to online models during the pandemic.
Pharmaserve allows customers to get their prescriptions filled online.
Commentary:
Getting your prescription medication can be a pain, especially when it requires you to go into a pharmacy to go and get it. But more options are starting to appear like Pharmaserve, a Canadian-based online pharmaceutical platform that allows consumers to get their prescriptions refilled online rather than having to stand in line at your local pharmacy. We asked Seun Bammeke, Managing Director of Pharmaserve, how they have been able to manage the pain in the process of buying prescription pills online. Like everything in the past year and a half, online versions of anything have become more popular. We also asked Bammeke how the hyper-focus of making everything socially distant or contact-free helped speed up users' adoption of their services.
Abridged Thoughts:
We sell and ship prescription medication to the United States, so there are typically often many pain points. However, we've been able to eliminate a lot of them for our customers. So, for example, since we do not have a physical location, our costs are substantially less than your typical brick and mortar brick and mortar pharmacy apologies. And so, because of that, we are able to pass on a lot of the savings directly onto our customers, which means they're even cheaper medications for that.
Well, fortunately, the pharmacy has always been fully online. However, our customers' adoption rate has increased dramatically due to the current world pandemic. We have proven to our patients and prospective patients, they're able that we are able to provide them with a safe way of delivering their medications while ensuring that it is affordable to our patients. Companies throughout this pandemic have found ways to step up and fill in a void where it is needed and, in turn, made some even more successful or well known.
More Stories Like This:
Latest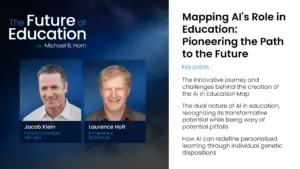 October 2, 2023
Mapping AI's role in education should be a critical step in bringing together innovative technology-based solutions with the expertise of human educators. With rapid advancements in artificial intelligence and an increased reliance on technology-driven educational solutions, the education landscape is on the brink of a significant transformation. AI promises highly personalized learning experiences, efficient administrative […]
Read More