Knee Braces Can Help Treat ACL Injuries
Have you ever watched an athletic event on TV and seen an athlete fall to the ground clutching his or her knee in agony? If so, there is a decent chance you witnessed an ACL tear. ACL injuries tend to be extremely painful, and it is important to seek and secure swift and proper treatment. Handling these injuries appropriately will ensure that patients regain maximum strength and movement in the joint and increase the efficiency of the rehabilitation process. The level of injury and the required degree of recovery will determine the best treatment options. These can include rest, physiotherapy, wearing an ACL brace and/or undergoing reconstructive surgery, or possibly a combination of all of these.
Causes and Symptoms
ACL injuries denote a tear or sprain in the anterior cruciate ligament (ACL)––a major knee ligament. Ligaments are strong bands of tissue that connect bones. The ACL crosses the knee and connects your thighbone (femur) to your shinbone (tibia). Sports that involve sudden stops, changes in direction, or jumping and landing are common culprits of this injury.1 Activities in which direct blows occur can also increase the likelihood of an ACL tear or ACL sprain. In addition to engagement in the aforementioned activities, other risk factors include being female and wearing ill-fitting footwear during high activity. When this injury happens, many people hear or feel a "pop" in the knee and may experience swelling, pain, and instability. The severity of the injury will affect the symptoms and determine the best treatment approach.
ACL Treatment Plans
The treatment program for an ACL tear or ACL sprain will depend on several factors and range from first aid to surgery. Ice, elevation, and rest for the knee are the first line of defense. Doctors can also prescribe anti-inflammatory medications or offer steroid injections if warranted. A proper knee brace can also offer support while healing. In addition, physical therapy to strengthen the muscles around the knee can help patients regain a full range of motion. And if the ACL is badly torn, surgery might be unavoidable. During this procedure, the surgeon removes the damaged ACL and replaces it with tissue that stimulates new ligament growth.2 The best treatment approach will restore stability while helping prevent future damage. It's critical that patients follow their doctor's advice during recovery and use a proper knee brace, or they may face a lifetime of unnecessary residual difficulties following an ACL injury.
Knee Brace Options
Below are some of our best selling knee braces from mild to moderate support and postoperative management.
FREEDOM® Breathable Hinged Knee Brace: is a soft hinged knee brace for mild/moderate ACL instabilities.
FREEDOM® Hinged Extended-Length Knee Orthosis: recommended for ACL instabilities and post-op management.
Ossur® Rebound® DUAL: a functional ligament knee brace that is suitable for low to high impact activities.
For our full line of knee braces and knee supports,click here.
References
Latest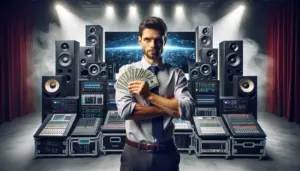 December 8, 2023
Mastering AV sales strategies in a global professional audio-visual (Pro AV) market, poised to reach $79.2 billion by 2028, requires much attention to detail. The surge in demand from corporate, government, and institutional sectors, driven by the need for enhanced productivity and efficient working environments, gives AV sales pros a lot of opportunity. In […]
Read More