Medicare Advantage Insurance Companies Should Take Advantage of Senatorial Support to Fight Proposed Funding Cuts
As the federal government threatens Medicare Advantage funding cuts, Melanie Musson, a health insurance expert with ExpertInsuranceReviews.com, reminds providers, "Now is the time for action. Providers can leverage senatorial support to lobby for adequate funding."
According to America's Health Insurance Plans (AHIP), over 60 U.S. Senators drafted a letter expressing their support for Medicare Advantage.
In the recent climate of finger-pointing and threatened funding cuts, this bipartisan support from political figures should provide Medicare Advantage insurance providers encouragement to continue their efforts to partner with the Federal Government and bolster their commitment to Medicare Advantage recipients.
Recent Conflict
Medicare Advantage is poised to become more popular than Original Medicare with Medigap. And there's been some subtle pushback since Medicare Advantage started to draw a record number of seniors to its plans.
Government audits indicate that Medicare Advantage providers have overcharged Medicare by more than $1,000 per policyholder annually. Medicare Advantage providers respond that the discrepancy is a matter of poorly kept records, not an actual overcharge.
Risk of Reduced Funding
The Biden Administration announced that Medicare Advantage could receive a 2.3% reduction in funding in 2024. With the cost of services increasing, this reduction could have an even more significant real-world impact than 2.3%.
These proposed cuts will result from updated coding that the federal government says will reduce the coding abuse Medicare Advantage providers have been participating in, leading to the federal government overpaying for service.
Medicare Advantage policyholders will likely be the ones to make up for the difference the funding cuts will make. And they'll do so by paying higher premiums or having reduced coverage.
Medicare Advantage Provider Response
Now is the time to act to fight the proposed funding cuts. Providers must prove the necessity of funding and how cuts will impact the senior population dependent on Medicare Advantage for healthcare.
Medicare Advantage is poised to overtake Original Medicare regarding the number of enrollees. And those with Medicare Advantage plans tend to be happy with their coverage. So, insurers need to safeguard these positive indicators.
Increasing premiums for those on fixed incomes could be devastating, especially when these seniors already feel the effects of inflation taking away their buying power.
Another strategy is for Medicare Advantage providers to work with budget-friendly physicians to build strong in-network relationships to lower costs for policyholders.
When 2.3% equals billions of dollars, it must be taken seriously. With the bipartisan backing of senators across the country, insurers have a better chance of protecting their funding and providing better coverage for seniors without requiring seniors to pay dramatically higher premiums.
Latest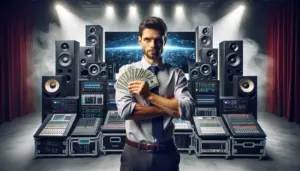 December 8, 2023
Mastering AV sales strategies in a global professional audio-visual (Pro AV) market, poised to reach $79.2 billion by 2028, requires much attention to detail. The surge in demand from corporate, government, and institutional sectors, driven by the need for enhanced productivity and efficient working environments, gives AV sales pros a lot of opportunity. In […]
Read More